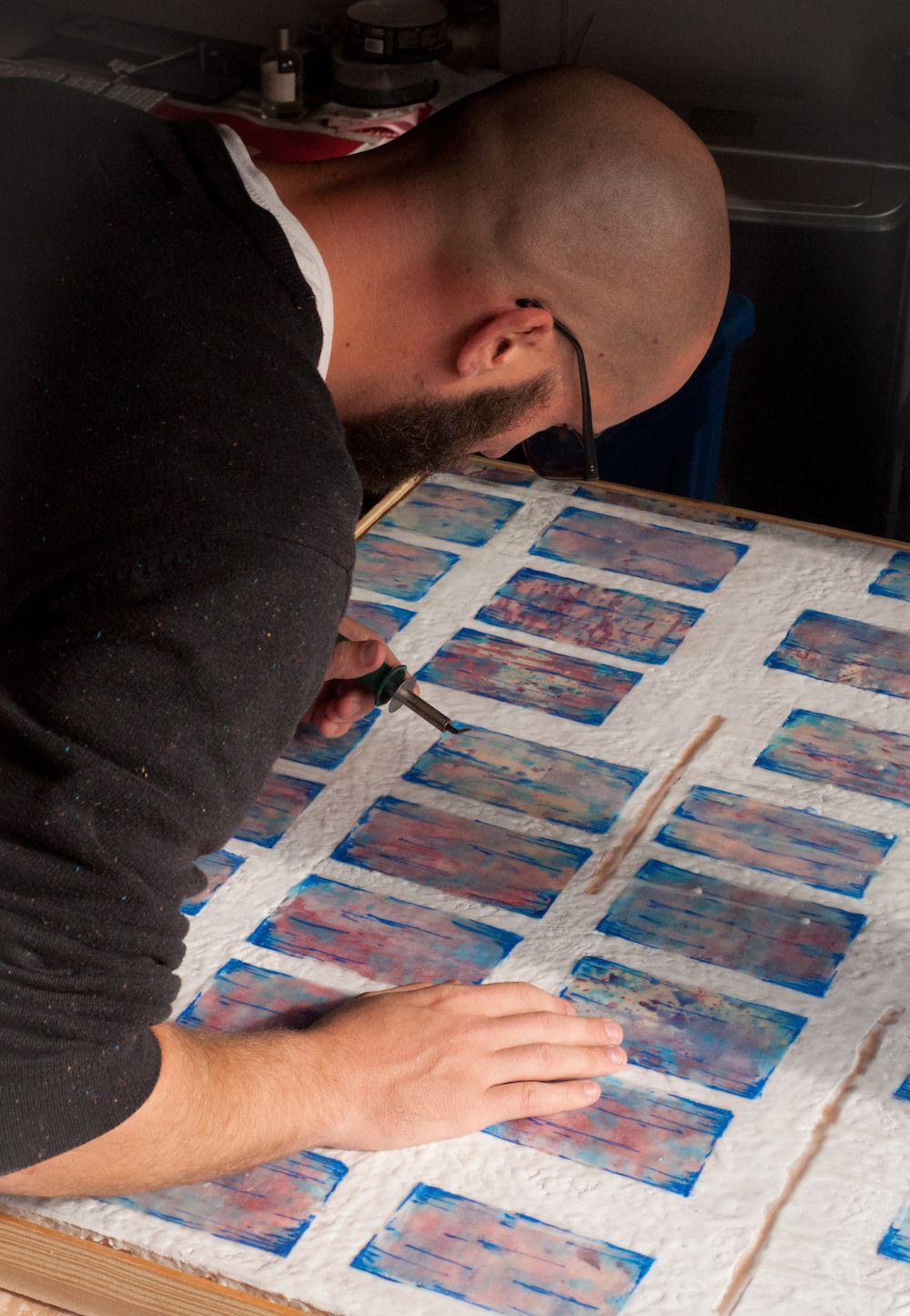 Photos Credit: Michael Malizia
Michael Malizia can confidently say that he has always been a creative soul. But it wasn't until he became a father that he truly found his artistic calling. Inspired by his vast exposure to fine art and his passion for fatherhood, Malizia took family treasures created by his children and mementos saved by his wife, and created pieces of meaningful art. His creations not only documented their time as a family, but they inspired others to do the same, pushing Malizia to turn it into a business. Now, Malizia's children aren't the only ones that inspire him. Through My Life Studio, Malizia is transforming artifacts that are usually forgotten, shoved in an attic and giving them life. Malizia tells JustLuxe about his creative journey and forming My Life Studio.
How did your artistic career begin?
Art has always been a part of my life and a part of who I am. To be honest, I remember being programmed from an early age that art was something to enjoy, but it was never going to be a sustainable career. Although my studies at Cornell were founded in the visual arts, I had this underlying expectation that art was not a business, it was a hobby. With that expectation and the necessity to make a living, I ended up in the trenches of the financial world. For my thirty-second birthday I found myself in front of an easel, my wife, Erin signed me up for studio time and it was like a baptism by fire. It felt right and natural. Art isn't a talent, it's intelligence, it's the way I can express myself. Fatherhood was the paradigm shift and I began pursuing something that would be rewarding, tangible, and something I could be proud of. When the opportunity presented itself to step away from the business that I had started, I jumped at it and have not looked back. For the past four years I have been engrossed in my art and although responsibilities take hold, I will never again let anything get in the way of what is really important.
Can you tell me about "My Life Studio" and how that started/grew?
"My Life Studio" is a name coined by my daughter when I first rented my studio space. There was never an intention for it to become a business, it was simply a place that I could focus on my art and play with my children – they have their own setup which includes books, every art medium you can think of and a trampoline. As time went by I started to work on ways that I could create a "finished" piece of art with my daughter. Although these techniques were originally created to allow my daughter to "make art like dad," they ended up completely changing my techniques and forcing me to evolve as an artist. The word began to spread and people started to make inquiries about commissioned work. Through that interest the business of "My Life Studio" was born.
Erin saves everything. Everything. First illustrations, letters, doodles, airline tickets, concert stubs: you name it, we have it. We feel compelled to capture every moment, document each rite of passage and adore every doodle of our child's life. But what to do with these piles of mementos stored away in boxes? We sat there one day, and simply decided we needed another plan, a functional plan that could take these artifacts and mementos and make them something, one "thing." The journey has been figuring out exactly what that "thing" is for us, and now we help others do the same.
"My Life Studio" transforms years of collected artifacts into a work of original, fine art. We synthesize years of growth into one fine art piece, a piece to be passed on from generation to generation. My parents recently moved and they handed me a dusty box of newspaper clippings and artifacts. While I'm happy to have that dusty box from my childhood, my girls will be handed a piece of fine art that tells their story.
How do you find inspiration from other people's memories?
There are clearly some memories that are more inspiring than others, or just more visually pleasing. That's why the collaboration with a client is so important. It's through these interactions that I am able to gain a sense of passion for these memories. It ends up being this passion that truly drives a piece and ultimately makes it enjoyable for me as an artist. I know that if that piece captures these emotions, it will be a true treasure.
I could never do this form of art before becoming a father. I wouldn't understand the emotional connection, I would have missed the meaning and the journey it took to get to that image, that ticket stub, that progress report, etc. Now that I have a lens, a fixed lens that makes me "Dad" before I am an artist or an entrepreneur, I respect and appreciate the importance and the emotion. Without that understanding I wouldn' find inspiration or an excitement in the collaborative pieces.
What is your artistic process like? Can you tell me about the "Encaustic technique?"
Repurposing materials to fit in a composition is a majority of the process. Taking an old silk scarf or a child's drawing, there is a way to incorporate these items and make them an intricate part of a piece. I just finished an encaustic portrait of Frida Kahlo and the flowers in her hair are made from a sequin scarf and an old skirt of Erin's. It looks awesome and I see the pattern bleeding through the flowers, and I can remember seeing her wear the skirt. It makes the art that much more meaningful, intimate.
Although I have always enjoyed working in acrylics, encaustics truly make this repurposing a unique possibility. There are things that you can do with a pliable material once it is dipped in wax that one would never attempt prior.
In addition to this and other benefits of the encaustic process, painting with wax is a complete sensory experience. There is a scent a texture and a sculptural property that can't be replicated with different mediums. The ability to build up layers of semi-translucent material really lends itself to a mixed media process. Unlike other art medium, my art process begins with making the wax. I melt my wax and mix the resin I create and blend my own colors. My art process begins by making the actual medium.
What are your goals as an artist?
I'm fortunate and I've had success in my professional life, but I never felt true success until I made art my career. After my first studio tour I turned to Erin and said, "That was the best feeling. Just seeing reactions and interactions, the emotional response to something I created is the first time I've ever felt accomplished."
As an artist I really want to continue to make art that I can be proud of. By creating high quality works that push the use of different materials, I will constantly evolve as an artist. My Life Studio provides the vehicle in which I can share these processes on a larger scale, yet in a very intimate way. The ultimate reward is having people enjoy your work not only as a beautiful piece adorning their walls but a symbol of their cherished memories.
Do you think your lifestyle as a father has influenced you heavily in the art world?
My Life Studio would not exist without my girls my children have made me the person and the artist that I am. My two girls and my wife have influenced me on every step of this journey. I draw inspiration from them, from their actions, from our interactions. Through my children I have become so cognizant of the beauty of life and the emotions that come with it. They really are my driving force.
What are some of your favorite projects that you have worked on?
My favorite projects to work on are those that evoke the most emotions. If someone is passionate, it's impossible to not get drawn in as an artist. One of my first commissions was for a family I know really well. Ady and Rob Dorsett's son Hayden, left this world at five months and four days. As a father, I cannot even begin to imagine that pain, that loss, that void. Their eldest son, Jackson, was five when he and I collaborated on this painting. My job was to figure out a way to involve Jackson, honor Hayden and make an awesome piece of fine art. I felt myself drawing from Jackson's energy. It was such an honor to make this piece and one I will never forget. I am happy to continue working with their foundation. (www.haydensheart.org)
Another piece that I worked on was emotional for a much different reason. It was a Mother's Day gift for my wife Erin and the first piece that I had both my daughters collaborate on. There was a simple line drawing that my oldest daughter had done when she was four years old and Erin loved it. The task that I gave myself: come up with a way to make a two inch by three inch line drawing into a large scale piece of art with the help of a five year old and a two year old, and make sure you want it on your wall! It was the best Mother's Day gift ever.
What do you enjoy most about your work?
The end result. It is incredible to take a person's memories, emotions, vision and synthesize it all into one art piece, that winds up on their wall. The process is a journey and in order to incorporate some new materials, there is a series of studies that must be done in order to get the results I want. There is as much puzzle solving as there is art.
How do you collaborate with other artists?
I feel that it is crucial to have a network of creative people to bounce ideas off of. This is one of the things I took away from running a brokerage business and it holds true with art. It is so useful to have that web of contacts and be a sponge that learns from their artistic process. I have a cousin who is a well-respected artist and he is really good at telling me when I'm missing something and when I am done.
What do you have coming up? Any shows or projects?
On April 7th there is the opening of my solo show "Faces- A Retelling" at Tresorie, in Hoboken NJ. My Life Studio is presenting a number of mixed media and acrylic portraits that incorporate original materials and memories of each child. This is a unique opportunity for me as an artist because I am able to present my commissioned works as well as the original pieces from my creative branch, Michael Malizia Art Studio. In keeping with the portrait theme, I've focused on cultural icons and captured their likeness in encaustics. All works on display will be available for purchase but it is also an opportunity for individuals to come see our commission works and if they wanted they can send me home with a box of memories that night. This show will run through May 15th. I also have two group shows I will be involved in. At the end of this month there is a Plus One event at the Proto Gallery in Hoboken. In April there will be a 12x12 small work exhibit at the Roig Gallery, also located in Hoboken.