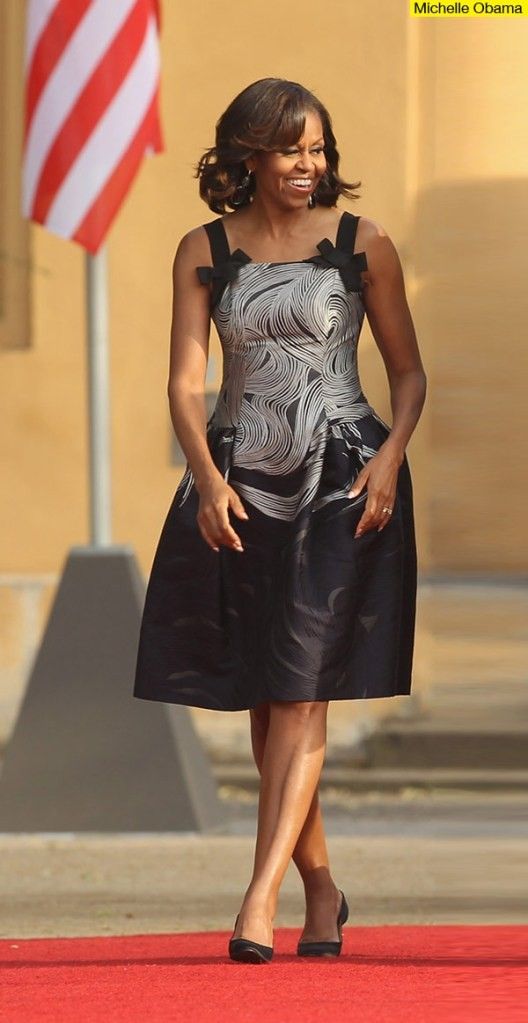 Photo courtesy Getty
The first lady has a reputation as a snazzy dresser, and though she's worn some real duds in the past, the bombshell she wore in Berlin was anything but! With an eye-catching white swirl pattern that turns the simple black dress into something intriguing, the combination of cut and pattern shows the first lady has not lost her legendary fashion sense.
The very stylish first lady looked gorgeous in her navy blue and silver dress while at a dinner for President Obama in Berlin!
We cannot get enough of Michelle Obama's elegant style and affinity for pretty dresses. She is always wowing us with her outfits and especially now that it is summer, she is whipping out all of these gorgeous sun dress that allow her to flaunt her favorite asset, her toned arms — and we love it! What do you guys think of Michelle Obama's dress?
Michelle Obama's Outfit:
Michelle's stunning Carolina Herrera dress, from the Pre-Fall 2013 collection, is the perfect color and fit for this very stylish first lady. (Read More)