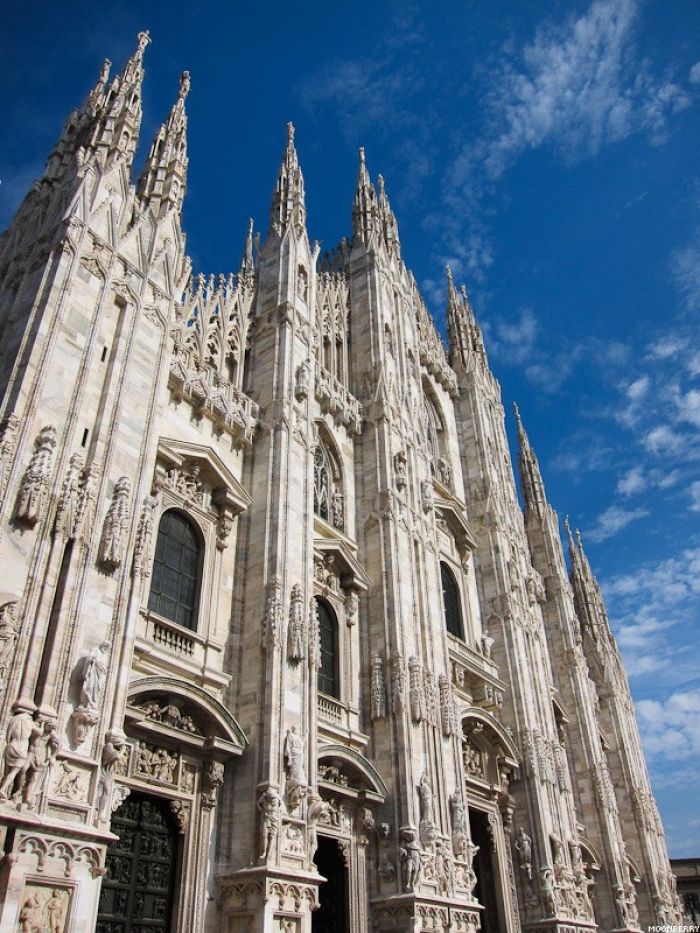 Moonberry
It's always a refreshing takeaway whenever I read travel blogs, and these ones covering Milan, Italy, offer a realistic look at what you would likely spend some time doing if you were to visit sometime soon. Though some of the stuff is stuff that almost everyone who visits Milan does, there's a reason that they do: Even the normal in this wonderful city is extraordinary.
Back in August, my mom asked me to tag along on a business trip to Milan and I thought to myself, "Okay, I guess it's about time I go there and check it out."
Being the NY snob that I am, it had certainly taken a long time for me to want to go to Italy. I didn't really have any expectation, to tell you the truth. Prior to this, all I knew was that the term "Made in Italy" is usually something that sales people at high-end department stores love to brag about when they are trying to hawk bags, belts and shoes; boasting about "real Italian leather" and "genuine Italian craftsmanship". And then for many years I've also heard about The Milan Furniture Fair (Salone Internazionale del Mobile di Milano), so I loosely associated Italy in general with high quality furniture design – strictly from a design perspective. Of course when it comes to food, Italy to me is synonymous with pasta and pizza – not exactly high on my foodie hitlist. As for fashion, again I honestly hardly paid much attention as my curiosity has always been skewed mainly towards the French and American fashion designers. (But yes, I do know of Milan Fashion Week.)
So, you can say that me going to Milan was one of those "go with the flow" trips and I had no preset itinerary in mind of what I would want to be doing when I was there. I did, however, had a hunch that the highlight of this trip for me would somehow involve design… in one way or the other. Read More
When it comes to canals in Italy, Venice isn't your only option: Milan's Navigli neighborhood is famed for the Naviglio Grande and Naviglio Pavese canals. With its great bars and boutiques, the Navigli is one of our favorite areas in Milan. Not to mention one of the most historic: The neighborhood dates all the way back to 1179, when the waterways were constructed to connect Milan to the nearby lakes.
Here are five things to know about the canals in Milan (and the Navigli district!).
Milan's canals were used to transport marble
Candoglia marble in Milan's Duomo, transported via Milan's canals. Photo by Bramfab (WikiCommons)
Milan's canals were built because of the Duomo
Milan's canals aren't only beautiful, but functional: They were constructed to transport goods from the nearby lakes. One of the most important deliveries? Precious marble from Candoglia, which was used to construct Milan's cathedral, the Duomo. Read more about the canals
Milan is underrated - mostly people fall in love with the beauty of Rome and Florence, and totally disregard what is Italy's business centre. Often described as grey and industrial (like nearby, Turin, which can be a lovely surprise), I personally think it can be the perfect European city break - the centre of town is actually quite pretty, the restaurants are amazing, the shopping is pretty much as good as it gets (and of course, everyone looks the part!).
What is not to like? I adore Milan, a city I have visited many times on business trips and was yearning to return, after spending a lazy sunday in town, on my way back from Genova.
This time around, I travelled to Milan as a guest of BIT Milano, which is a travel exhibition for both trade and the public, which takes place every February, and a smaller scale version of London's World Travel Market or Berlin's ITB. We spent a day at the Fira Milano, but really looked forward to a weekend in this incredible city.
Here's my itinerary for a perfect weekend in Milan. Check out her itinerary suggestion