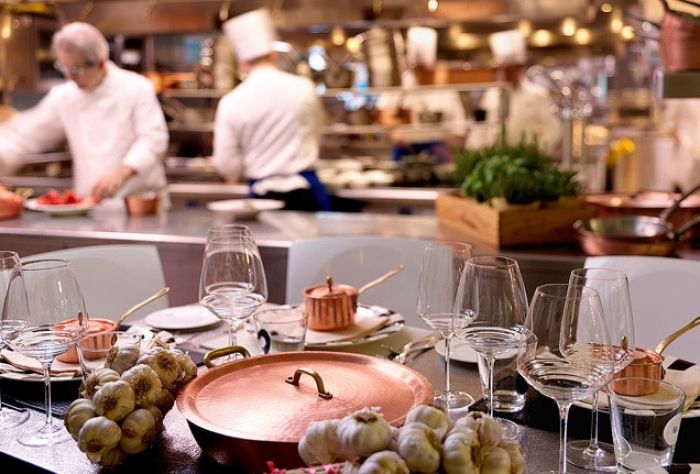 Four Seasons Hotels
Milan's amazing fashion industry might take the limelight when most people think about the Italian city, but that does not mean the food and fine dining throughout Milan is any less spectacular. If you are planning a trip there, make sure to hit up at least some of these amazing restaurants and dishes to see just what all the fuss is about.
In a country that has one of the finest cuisines worldwide you can always expect to eat well, but Milan offers some exceptional restaurants that are culinary destinations in their own right.
The restaurants below all offer something unique, whether it be their individual play of Italian cuisine or their sumptuous surroundings.
CLANDESTINO MILANO RESTAURANT
Cuisine: Italian sushi
Style / Ambiance: Following with the bizarre and surreal theme at Maison Moschino, its restaurant, Clandestine Milano, serves 'playful' Italian cuisine.
The two-Michelin-starred chef Moreno Cedroni creates what he calls "Flower Child Sushi", which replicates the Japanese original, but uses carnaroli rice, Italian extra-virgin olive oil and Burrata cheese inplace of wasabi or seaweed. Dishes are presented in an equally humorous fashion; try, for example, a toothbrush with an edible mint and coconut toothpaste and a sake and mint-flavored 'mouthwash'. Read More
Creamy, buttercup-hued risotto alla Milanese and veal cutlet coated in breadcrumbs and butter-fried are Milan's most famous dishes, found in almost every trattoria around town. Seek out other Northern Italian gastronomic bounties in a culinary journey through Milan that starts at La Veranda at Four Seasons Hotel Milan. Executive Chef Sergio Mei has set the city's new dining template by transforming simple seasonal ingredients into spectacular modern cuisine. Choose from a menu of authentic Italian dishes such as artisanal Verrigni spaghetti, or pick from the selection of contemporary offerings like steamed red snapper with pearl eggplants. If you're venturing beyond the Hotel, seek out these local favourites.
Al Peck Ristorante
Via Spadari 9, 39 02/802-3161
Why go: The latest addition to Milan's Peck food empire, Al Peck—which includes a chic bar and a luxury first-floor delicatessen packed with every type of cheese, salami and indulgent Italian essential imaginable—specializes in handmade fresh pasta, grilled meat and fish dishes.
What to eat: The fish soup with strawberries has a refined sweet taste, but it's only on the menu on Fridays. Any other night of the week, try the coal-grilled mix of tender meats and crispy oven-roasted potatoes. Read More
The food of Milan, Italy might not be as famous as the city's fashion or Duomo. But its cuisine includes some of the most delicious food in Italy! Stick-to-your-ribs dishes like risotto alla milanese, cassoeula and cotoletta alla milanese keep you warm in the winter, while the budget-friendly aperitivo is perfect for experiencing not only Milan's food and wine, but buzzing nightlife, too.
Want to know what to eat in Milan? Here are some of our favorite foods, and food traditions! Just remember that Milan is a very trendy city, so don't be surprised to see some of these traditional dishes presented in new, innovative ways.
Buon appetito! Read More