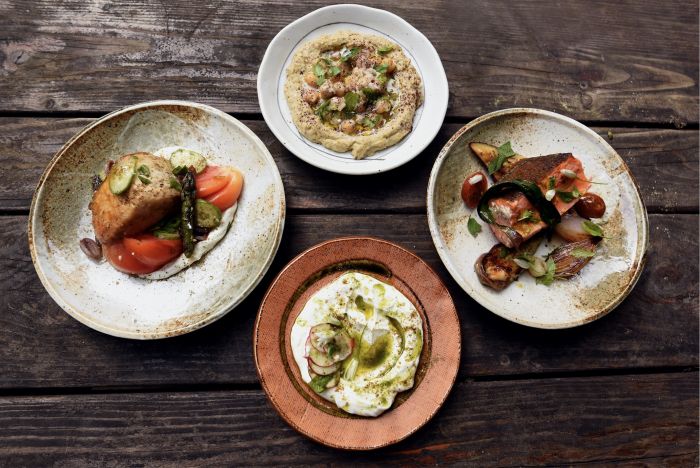 Tucked away in the heart of Fort Greene, Brooklyn is Miss Ada, where the Mediterranean fare is served with a twist in a space that makes you feel like home. We sat down with Owner and Executive Chef Tomer Blechman to talk about the restaurant as it hits its first-year milestone. Originally from Israel, Blechman integrates a traditional, yet creative approach to cooking.
The dishes are meant to be shared, each bursting with color and flavor. "I opened Miss Ada to be a place everyone could eat at, enjoy and feel nourished at the same time," says Blechman. The name, Miss Ada, originates from the Hebrew word for restaurant, "Misada". The root of the word, "Seuda", represents coming together at the dinner table with friends and family to relax and discuss the day together. "We want Miss Ada to be a place where our guests come back time and time again, not only because they love the food, but because they feel a special connection to the restaurant and want to share the experience with others."
This winter, Miss Ada launched brunch on Sundays, filled of sweet and savory Israeli pastries to accompany the mezze spread. As Miss Ada gears up for Fall, they'll be introducing new dishes inspired by seasonality and various Mediterranean dishes… Seasonal hummus will include Red Pepper Hummus with corn and cilantro, and into winter, Sweet Potato Hummus with mushrooms and crispy kale. Blechman will introduce his take on a Moroccan fish tomato stew, Chraime, bold in flavor with harissa, and sweetened with golden raisins.
To pair, Miss Ada has one of the most robust and unique all-natural wine lists in Brooklyn, with selections from all over the world, from Texas to the Czech Republic. The cocktail list is also frequently updated to reflect the seasonal flavors with hints of Mediterranean flare.
Miss Ada is located at 184 Dekalb Avenue. Reservations can be made at www.missadanyc.com or by calling 917-909-1023.