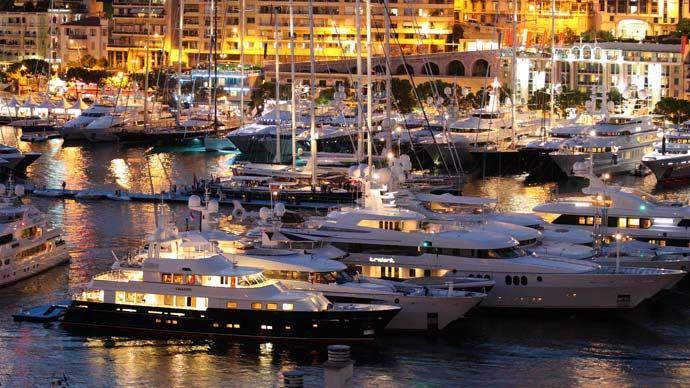 n/a
The magical city of Monte Carlo has one of the prettiest coastlines in Europe. See it in style, and take time out to visit the Monaco Yacht Show – a yearly extravaganza held in Monaco's' Port Hercule. This prestigous Boat Show is staged 25 – 28th September and has a reputation for excellence and some truly spectacular super yachts.
Hundreds of luxury yachts are on exhibition, for you to explore or charter. For those in the business of creating these glorious water craft, it's a good opportunity to meet other designers, engineers, builders and suppliers ideal if you are considering a future yacht charter in the mediterranean
For three days, you can immerse yourself in the worlds' finest ocean going yachts, stroll through the old harbour and get a close up view of what's on offer or sit back and enjoy a glass of champagne whilst you watch just who is going to indulge their passion for the sea with a new toy!
The whole event is sumptuous – and there is plenty to look at other than the big boats. If you're there on Thursday, 26th September, you'll see the United Kingdoms premier flight team - The Red Arrows – who are performing at 2.00pm over Port Hercule. For anyone interested in aeronautical displays, it would be difficult to find a more glamorous setting, since they begin their display by roaring over the steep hills of Monte Carlo, roaring out into the blue waters of the bay.
These are no ordinary boats – they are the crème de la crème of ocean going vessels. No expense is spared in the design. They are kitted out with Jacuzzi's, heli-pads, space for speed boats to take passengers into tiny harbours and luxurious dining areas. The interior and exterior spaces are created with rare and beautiful materials – the finest money can buy. Marble clad bathroom with king size baths, hand made beds and state of the art gymnasiums. These super yachts are designed with pleasure in mind and the attention to detail is breathtaking.
If you wanted to get a taste for sea travel and test out your sea legs, you could investigate a luxury yacht charter and sail around the local Mediterranean. If you are new to yachting, why not learn to skipper a yacht with some reliable help and hire a crew as required. Depending on the size of the yacht, it's easy to retain the services of a Captain, Skipper, Chef and kitchen team, as well as some optional extras such as a fishing instructor, masseur and any number of hospitality staff!
Monte Carlo offers lots of opportunity for exploring and it's easy to get around – with just 4.1 kilometres of coast line! If you like to swim in stunning surroundings, take a dip at the exclusive Monte Carlo Beach Club, which has two large swimming pools, complete with a café, fine dining restaurant, bars, changing rooms and showers. It is a beautiful spot, with cabanas for additional privacy. It is open until late August and costs about 50 Euro for entrance and lockers. Or, if you prefer a good book on a beach, visit the Plage de Larvotto where fresh sand is regularly bought in to top up the beach. The coast road - the A8 route, takes drivers from Monte Carlo to Nice and then onto Marseilles, or Highway 98 takes you to Basse Corniche and onto the French Riviera – perfect seaside roads for late summer driving! And of course, you have the benefit of the most marvellous views of the harbour and all those glorious vessels.