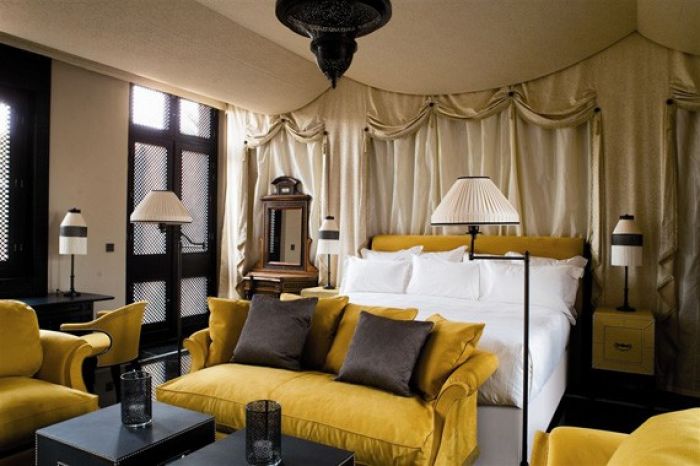 Courtesy of Selman Marrakech
Come this May, Morocco can expect a flurry of activity. What's the cause? The newest luxury property opening five minutes from the bustling Marrakech. From a unique Arabian horse breeding program on property, to the sprawling 12,000 square foot spa, the newest addition to Morocco's luxury retreats is sure to be a jewel of the region.
Selman Marrakech is set to be unveiled May 1st, 2012. Artistically directed by French designer Jacques Garcia, the resort has been three years in he making with no detail left unfinished. Privately owned, the inspired property is home to 56 rooms and suites. Of those, 30 will be Deluxe rooms, 20 Junior Suites, 6 Deluxe Suites and 5 Riads- complete with private pool, 24-hour butler service, and garden.
Horse lovers rejoice! With the inspiration behind Selman Marrakech being equine, the property is home to 16 Arabian horses- 10 Award-winning thoroughbreds and 6 for trekking rides. The luxury resort is also host to its own breeding program, with the stables and clubhouse also designed by Jacques Garcia. Roaming the spacious paddocks, dreams can come true with the ability to ride these beautiful animals for trekking rides or watching them from the comfort of your room or poolside.
From the world-class spa treatments offered by Espace Vitalité Chenot to the dining options at luxury brasserie The Selman and Mediterranean-inspired Assil Pavilion, Selman Marrakech is sure to draw the discerning traveler upon opening its doors. Relax by the 260-foot main pool or take in the views of the galloping horses, make your reservations today at www.selman-marrakech.com.
Originally posted on Examiner.com.
Courtesy of Selman Marrakech
Outdoor pool
Courtesy of Selman Marrakech
Attention to detail
Courtesy of Selman Marrakech
Outdoor lounging spaces
Courtesy of Selman Marrakech
Moroccan light
Courtesy of Selman Marrakech
Beautiful rooms
Courtesy of Selman Marrakech
Opulent outdoor seating areas
Courtesy of Selman Marrakech
Arabian horses on property
Courtesy of Selman Marrakech
Detailed mosaic tile work