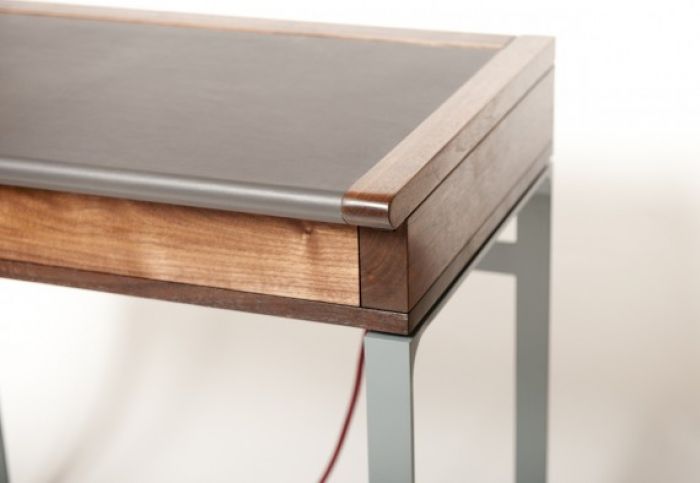 Graeme Hunter Pictures
Thick, tactile grey leather covers a solid American black walnut desk-top, which slides effortlessly out on a pair of heavily waxed hand-cut sliding dovetail joints (and is stopped by a pair of internal stops)

A striking raspberry coloured Scottish leather lines the interior - which gently slopes towards the rear of the desk to allow easy access to pens etc - as well as the underside of the desktop and the hidden finger-pull.

When closed, a narrow slot at the back of the desk-top allows cables to be hidden away inside the desk and a handcrafted walnut internal plug socket (which has been sideways mounted to allow even the bulkiest of plugs to be easily inserted) allows phones/laptops etc to be charged while the desk is in use. A matching raspberry coloured braided cable allows the desk to be neatly plugged in. The Moston also has a hidden sliding compartment to the rear.

Shadow gaps throughout the piece make the structure appear to float and all fixings are cleverly hidden, adding to the clean, modern lines.The timber construction is entirely hand-crafted from solid walnut and using traditional jointing techniques at METHOD'S atelier on the East coast of Scotland, before being finished with natural oils and beeswax and bolted to a slim, elegant powder coated steel frame.
Handcrafted to order only
Graeme Hunter Pictures
Moston Desk - from Scottish luxury furniture atelier - METHOD
Graeme Hunter Pictures
Moston Desk from Scottish luxury furniture atelier - METHOD
Graeme Hunter Pictures
Moston Desk from Scottish luxury furniture atelier - METHOD
Graeme Hunter Pictures
Moston Desk from Scottish luxury furniture atelier - METHOD