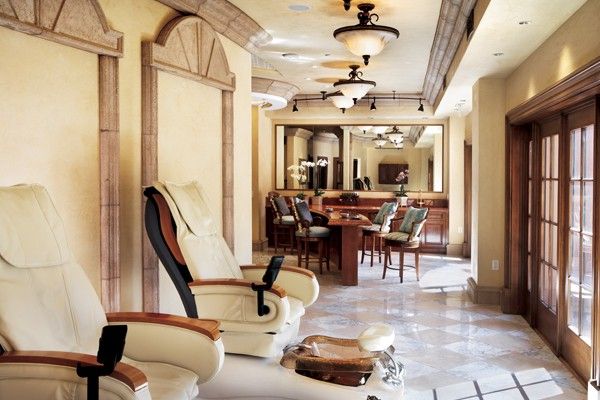 The Grand Del Mar
We love to shower our moms with goodies. According to Hallmark and the Wall Street Journal, Mother's Day is the 2nd biggest gift-giving day in America, ranking just behind Christmas. Why give the typical pre-packaged gift, then, when you can gift an extraordinary experience? You were always mom's favorite, after all. Here are a few ideas at a handful of San Diego's most stunning resorts, sure to tell mom she's top notch.
A different approach to flowers: A bouquet of flowers is charming, but The Grand Del Mar, the 5-star property tucked discreetly east of Del Mar, took a different interpretation for Mother's Day. The Rose Petal Pedicure, a 90-minute service complete with champagne and chocolate-covered strawberries is an epic treat for feet. I've long been a fan of The Grand Del Mar, which takes note of precise details to complete an ideal spa escape. This includes complimentary valet, two hours of complimentary day care at the Explorer's Club, and muffins and artisan chocolate snacks within the spa. More notably, I was again (this is my 3rd visit to The Grand's spa) impressed with the staff that anticipates requests long before one even thinks to mention one. I left a bag in my car, for instance, and asked the spa attendant to hold my purse while I went back up to the lobby to retrieve it. No need. She called the valet and had a member of her team fetch it before I went to my service. My pedicurist, noting that I wanted to take a nap, had her team change and turn down the music and returned with a heated eye pillow. That's attention that doesn't go unnoted, particularly by moms like mine.
Del Delights: Coronado's crowned darling, the Hotel Del Coronado, offers moms multiple ways to indulge this spring. In celebrating its 125th anniversary, the Spa is offering the Spa Revival 1888 facial. Combining anenzyme peel for an active and deep exfoliation with a double mask lifting treatment, this is one advanced facial seemingly ready to erase years of time's trauma to mom's lovely face. A prodigious endeavor, and one easier than a face lift. Also in celebration of 125 years, the Spa's signature Manicure and Pedicure package comes with the Del's 125th anniversary "Top of the Turret" nail lacquer.
Right on with Rituals: Rancho Valencia, now even more stunning following its $30 million renovation, has rolled out an extensive menu of packaged Rituals. For moms with a "sixth sense" of always knowing their children's' whereabouts and whatnots, the Sixth Sense Ritual is a sublime gift. A bath soak takes place first in one of the spa's mini Hacienda style treatment rooms that are complete with private patios. A massage of choice is next, which includesa Harmonizing Scalp Massage with a cornucopia of oils: organic Mediterranean myrtle, juniper, jojoba, and avocado. Feet and hands are last, which are indulged by paraffin treatments. While mom enjoys the 2 hour packaged ritual, take advantage of the Spa with a day pass. Rancho Valencia's 2.5-acre spa is one of my favorites in Southern California. In particular, the new Yoga Pavilion, a 1,000 square foot indoor/outdoor oasis, overlooks a tranquil pool and swaying Eucalyptus trees.
Rancho Valencia
Rancho Valencia