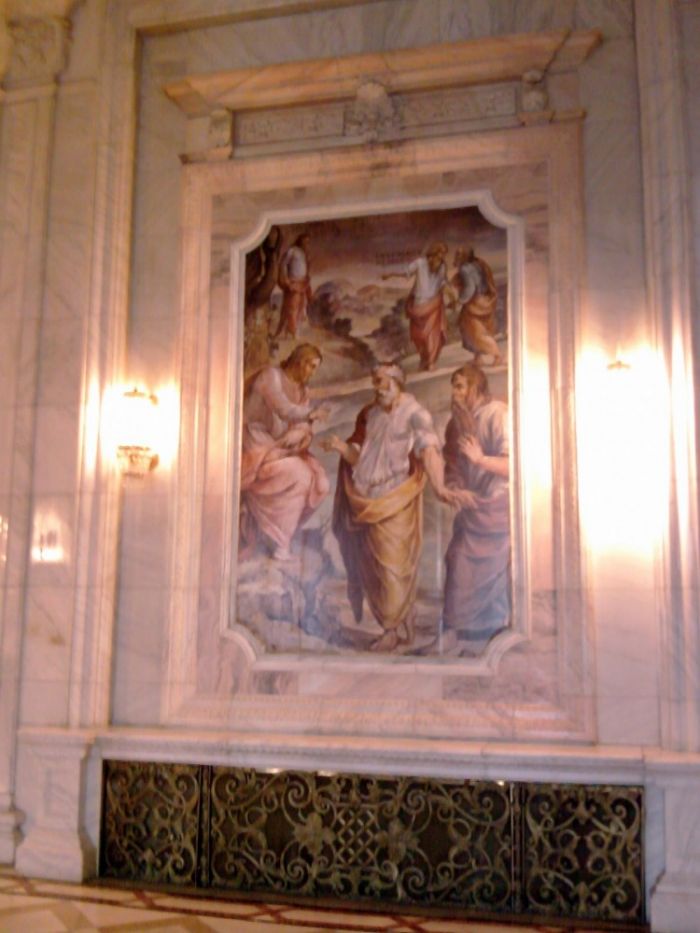 Azzurytt
Where would you think the newest little Hollywood is ? Be careful, from negligence you could cover it with your finger looking for larger spots on the globe !
Yes, as unbelievable as this is, it is true: lately Romania has become a land of Oscar, filming here being almost as a guarantee for being nominated for at least one important prize if not even gaining the most desired one.
The unspoiled wild beauty, that something unique and the authenticity of the home of Bacchus are only few of the reasons for the 170 movies cast here in the last 20 years.
Another reason are the directors and the extraordinary local technicians not as expensive as expected; a recent example is Dragos Stanomir winner in 2012 of Primetime Emmy prize for "Hatfields & McCoys".
The most notable autochthon director is undoubtedly Cristian Mungiu whose "4 Months, 3 Weeks and 2 Days" was the first Romanian movie who achieved mainstream cinematic success and won the Palme d'Or at the Cannes Film Festival – and one of the early favorites for the 2008 Oscar, its failure to make the 9-film shortlist triggering quite an outcry in the international media – and "Beyond the Hills" made the Oscar shortlist in 2012.
Naturally, Romania has always been a magnet for film makers from around the world (remember "Dracula" or "Harry Potter and the Goblet of Fire"), scouts seeking movie locations and stars who were repeatedly attracted here.
From the long list of awarded productions made in this country, here is a selection of the ones that made the biggest waves:
The uniqueness of House of People architecture made it the perfect backdrop for
"Amen"
(2002) starring
Ulrich Tukur
and
Mathieu Kassovitz
. The first photo is showing one of the paintings inside the huge administrative building that appear in the movie that won a Cesar, a Golden Globe and a Lumiere Award. It has also scenes filmed at Mogosoaia Palace, Baneasa Train Station and Free Press House (Bucharest).
"Cold Mountain"
(2003, 7 Oscar nominations) with
Nicole Kidman
,
Jude Law
and
Renee Zellweger
, brought to the last one the golden statue, opening a new era for Romania in movie industry. The impressive story of love and war from the America of 1860s depicted was filmed for 5 months in Potigraf village (Gorgota, Prahova), Rasnov and Zarnesti (Brasov) and only 2 weeks in U.S.A.
(The leading actors enjoyed visiting Bran and Sighisoara.)
Francis Ford Coppola
, who spent almost a year in this country with his wife Eleanor, said in 2005 he came here to rediscover himself as an artist. And
"Youth without Youth"
(one nomination) was released 2 years later, showing the Romanian cities ofPiatra Neamt,Brasov,Bucharest,Sinaia andConstanta. The Peles Castle, the roads between Comarnicand Breaza(Prahova) and the harbour and casino (second photo) of Constantawere settings for
"The Brothers Bloom"
(2007) with
Adrien Brody
and
Rachel Weisz
that received 3 nominations. The motorcycle stunt scenes from the sequel to "Ghost Rider" starring the Oscar winner
Nicolas Cage
, were the motive for which one of the world's most craziest mountain roads – Transfagarasan (over 2,000 meters tall), crossing the Romanian Carpathians – was closed for a week in 2010.
"Ghost Rider 2 – Spirit of Vengeance"
(one nomination) has also scenes filmed in Hunedoara, Sibiu (third photo) and in Gorj county.
"A Princess for Christmas"
aka
"Christmas at Castlebury Hall"
(2011) with
Roger Moore
and
Katie McGrath
shot at MediaPro Studios and Bragadiru Palace in Bucharest won two nominations. Another Hollywood movie
"Sherlock Holmes: A Game of Shadows"
(2011, one win and 8 nominations) featuring
Robert Downey Jr.
and
Jude Law
was made at Castel Film Studios (30 km away from Bucharest), where there is the largest western setting in Europe
(to make an idea it is about four times larger than what was used at Zarnesti for "Cold Mountain")
. The landscapes from Rasnov area (fourth photo), very similar with those from West Virginia and Kentucky served as the Appalachian backdrop of
"Hatfields & McCoys"
(2011) which brought to
Kevin Costner
the first Primetime Emmy prize (2012) and the Golden Globe (2013). Scenes of
"Batman: The Dark Knight Returns, part 1"
(2012, one nomination) with
Peter Weller
and
Ariel Winter
were filmed within Turda Salt mine (Cluj), taking advantage of the great setting. The newest stars arrived were
Sharon Stone
and
Andy Garcia
(2012) for
"What about Love"
filmed inBucharest city center, onTransfagarasan in the area ofArefu (Arges) and atRavens Castle (photo, Hunedoara). Now, admit it – you've always wished to pass by locations made famous by classic and contemporary movies and see what your favorite stars saw. Why wouldn't you be given an
unusual perspective
of Romania's history simply by following its cinema past ?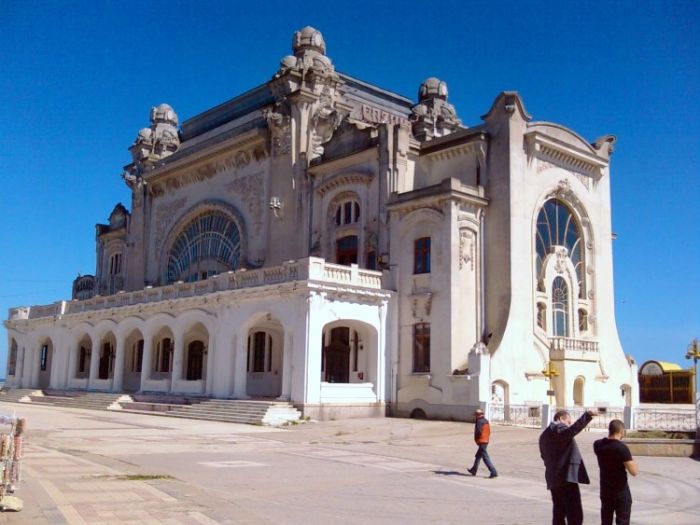 Azzurytt
Constanta Casino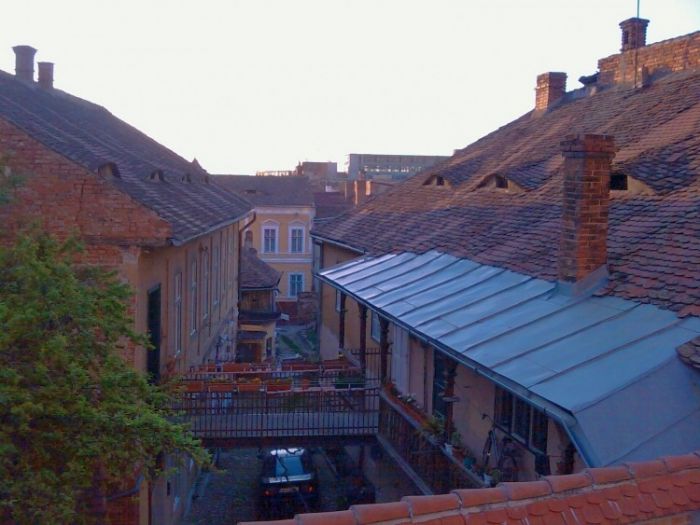 Azzurytt
View from Sibiu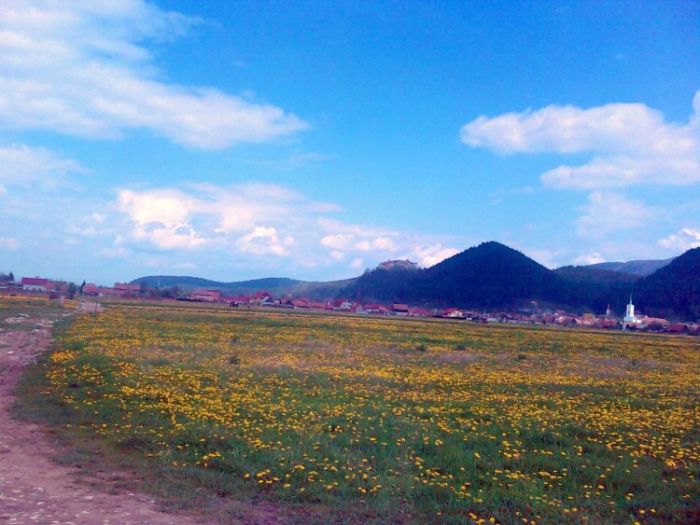 Azzurytt
Landscape from Rasnov