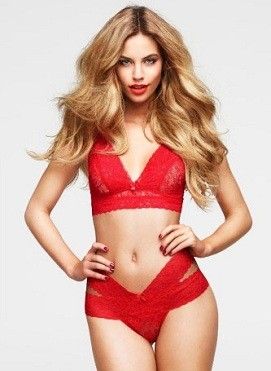 Figleaves.com
Valentine's Day is on its way, and you know what that means ladies– gifts, chocolate and more roses!
Showering the one you love with romantic presents is one of the best things you could do on February 14th, but what would make the perfect gift for your body? Lingerie is a great idea, but a one size fits all approach would not suit your life, so why should it fit all bodies?
Lingerie for slim bodies
If you feel a little bit insecure about your looks, especially your small or "lacking" bust line, you might wonder what you can get to solve such an issue, without having to resort to annoying temporary silicone fillers.
The best choice of undergarment for this group of girls are ones which are layered or have extra material, such as a garter set to add shape to the hips, and a Balconette bra to lift and contour to the breast.
Halter bras are another great option for women with smaller breasts, as the extra material added onto the straps create an optically larger breast. The same goes for a WonderBra; which can solve any fashion dilemma and make a small bust appear as flawless as it should be.
Lingerie for athletic bodies
Finding the perfect lingerie for a toned figure like that of tennis star Serena Williams or Olympic gold medallist Jessica Ennis can be tricky, but definitely not impossible.
You may feel that it's hard to flaunt those sexy curves after following an intense workout regimen for years, which has now lead to an extreme amount of definition and muscles in the thighs, shoulders, arms and abdominals - but there are always options.
This Midnight Grace Balconette bra by Figleavesmight seem a little plain at first, but when worn it can really add a lot of glamour to bodies like Serena's simply because of its classically feminine look.
It essentially gives you a very sophisticated, but also a dare I say, mildly pin-up look, which in this case will help to accentuate the curves elegantly. I would advise the Ennis's out there to wear something which detracts from the muscle definition of the abs and the shoulders and more so focus on an hourglass shape, such as with a corset, which should also give the bust a little boost (not that she needs it) to show off some cleavage.
By all cost; avoid stockings, because this will only add more definition to the thighs – and these ladies already have stunning legs.
Lingerie for voluptuous bodies
If you class yourself as a voluptuous chica, it might be even harder to find the right lingerie. There are a lot more sites and suppliers than before who provide an excellent selection of flattering lingerie such as Hips and Curves and Freya.
Whatever you choose to buy, it should help you to flaunt what you have, something that a woman with an eight foot hip circumference is proud to do. She doesn't find it difficult to buy clothes, and loves her body for what it is.
Babydolls looks really flattering on ladies with curves or lady lumps as Fergie once called them. Comfortable yet figure-hugging, it helps to accentuate your curves without being uncomfortable, something which can be an issue sometimes.
No matter what size you are, you should work with the type of body that you've got, instead of trying to adapt to what the media says you should have and what you should fit into. At the end of the day, you want to not only look beautiful for your significant other – but most importantly, for yourself.
So this Valentine's Day – why not embrace your curves and work to your strengths, rather than hide it.
Let's all say, I am B-E-A-U-T-I-F-U-L
Figleaves.com
Midnight Grace Lingerie
Figleaves.com
Elomi Babydoll