Steve Mirsky
Puglia, Italy's southern most province, is rich in ancient heritage and bathed in warm Mediterranean sunshine. In the "heel of the boot", just south of Brindisi and an overnight ferry away from Greece, warm aquamarine waters grace dinner tables with just caught seafood. Olive trees outnumber people and country estates are the preferred lodging option. It is here that the Salento way of life springs forth. "Slow food and sustainable lifestyle choices really have their roots in our Sunday passeggiata tradition", says Domenico Scordari, owner of Natura Benessere, an all natural cosmetics producer in Martano Italy. For those unaquainted, passeggiata happens in many Italian villages when friends and family gather in piazzas, stroll through the streets catching up on gossip, and rove for bargains in local shops. Then there is the trance-like Pizzica folk dancing that originated in Puglia's principle city Lecce, now dubbed with discotheque & other music styles. Natura Benessere's relaxation CD, Music for Your Skin is a good example.
It's obvious after spending a short time with Scordari that his heart and soul are connected to all levels of his business. From the production line to receptionists inside Natura Benessere's small manufacturing facility loaded with windows even on the storage level, Scordari knows each employee by name not only because it's a small business but because he's passionate about creating an environment that embraces another Salento quality...joi de vivre that pays the bills. "We're not just partners and coworkers selling products, we're also friends cultivating each others' businesses.The person comes first here", says Scordari.
Leaving a successful sales career to follow his true passion of promoting wellness and beauty, he started from scratch building Natura Benessere based on the concept of Kilometer 0 sustainability and only selling his products B2B eliminating the need for a sales force. This provides more time and energy for experimentation and production.
Natura Benessere is truly a green company throughout the full product life cycle from farming the extracts to onsite laboratory production and customized packaging. They use only locally grown 100% natural ingredients like herbs, aloe vera, and olive oil with no chemical additives to create their line of body creams and cosmetics. Pure food for the skin, these ingredients are never heated which would destroy their potency and effectiveness. Scordari points out why he doesn't use parabin. "Our bodies soak compounds in 3 ways: breathing, ingesting, and absorbing".
Scordari is currently in the process of restoring an historic farm just outside the village of Martano into a Natural Resort celebrating the 4 elements of life: Olives, wine, oils, and wheat. All materials used in refurbishing the property as well as operating procedures once it's complete will be 100% organic. Restoration centers around preserving the farm's architectural integrity like reusing floor stones and massive carved beams. Guests' will be enveloped in complete privacy with their own garden on one end and a terrace on the other overlooking the vineyards. Dining and onsite activities will revolve around the Mediterranean lifestyle like learning how to make olive oil and taking home the results. Throughout the day, guests will be served platters of onsite grown fruits and vegetables. Stay tuned for updates and reservation info..
Coverage made possible by participating in sponsored travel.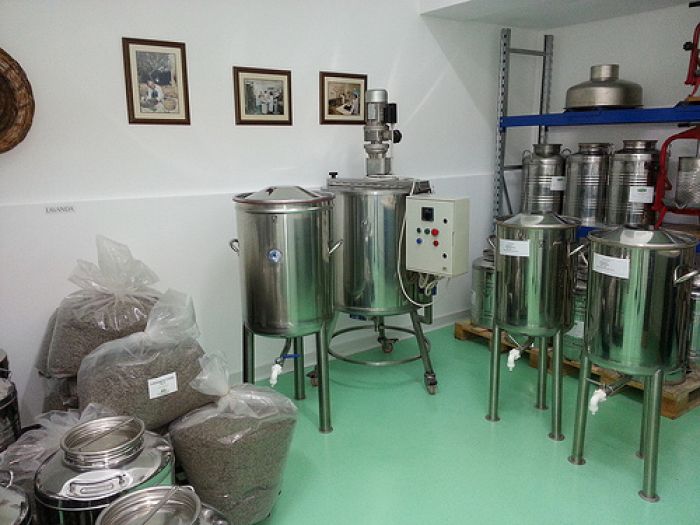 Steve Mirsky
Inside Production Facility

Steve Mirsky
Resort Under Construction