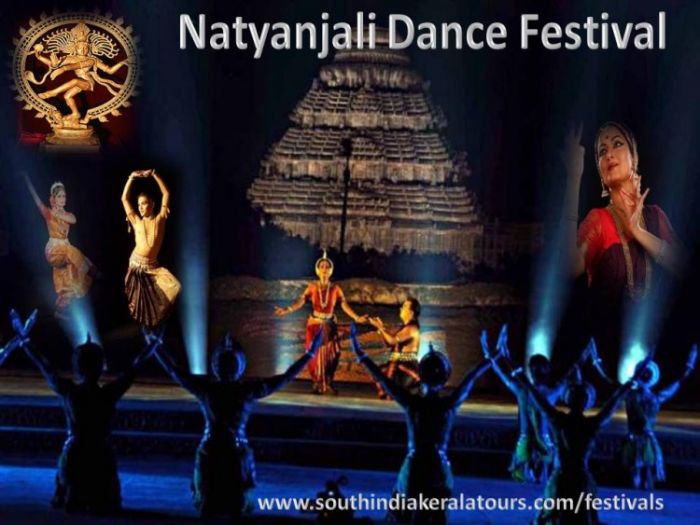 Natyanjali
When: 10th March, 2013
Where: Chidambaram, Tamil Nadu
Duration: Five days
Nataraja, a glorious ancient temple dedicated to Lord Shiva was constructed to commemorate his exclusive dance form. The temple, beautifully ornamented with carved pillars portrays 108 poses of Lord Nataraja in Bharatnatyam classical dance. Thus, the Tamilnadu Natyanjali Dance Festival is organized at this historic temple. Held during the months of February/ March, this eminent dance festival continuous for five days. The occasion is tabulated with the joint effort of The Ministry of Tourism (Government of India), Department of Tourism (Government of Tamil Nadu) and The Natyanjali Trust (Chidambaram). This auspicious Natyanjali Festival is celebrated on the special eve of Mahashivratri, birth anniversary of Lord Bholenath (Shiva). The Nataraja Temple, serving to be the backdrop of the festival, invites many dance performers to become a part of the celebration. The different dance forms deliberately aims to convey the message of 'Unity in diversity' to all.
Natyanjali festival is referred to be a popular cultural event in India. This occasion offers a platform to the budding dancers who assemble under the golden roof to honor the Lord.  This is more like a dance art exhibition that is attended by renowned connoisseurs and artists from all throughout the country. Not only the experts, but also new performers show their talent at this recognized stage. 
How to Reach
By Air: Trichy is the nearest Airport which lies at a distance of 160 kms.
By Rail: The railway station lies in close vicinity to the Nataraja Temple. Passenger and Express trains depart for Chennai four times daily, twice daily for Kumbakonam, Thanjavur, Madurai and Tiruchirappalli.
By Road: Chidambaram has good network of roads and is connected with Chennai, Madurai, Thanjavur, Pondicherry etc.
Performed to pay tribute to Lord Nataraja, the Natyanjali Festival is both to entertain and educate the audiences.
Natyanjali
Natyanjali Indian Dance