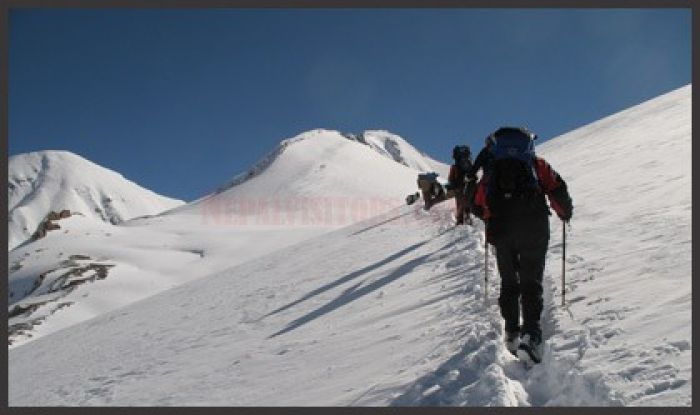 Nepal Visitors
Peak climbing in Nepal Himalayas is a dream for many climbers. With world's most of high mountains and more than 1300 snow capped peaks.33 of Nepal's peaks have been designated as 'Trekking Peaks'. The Nepal Mountaineering Association (NMA) issues permissions for expeditions to these with very simple formalities. The NMA was founded in 1973 with the objectives of promoting mountaineering activities in the Nepal Himalaya, safeguarding the interests of Nepalese involved in expeditions by upgrading their professional and mountaineering skills, popularizing mountaineering activities among Nepalese students and youths, and creating awareness, both at national and international levels, of the need to preserve the beauty of the Himalaya for future generations. Some Trekking Peaks are easy 'walk ups', but others are technical and can sometimes be dangerous. In general a team of guides, porters, kitchen crews and both kitchen and camping gear are necessary to undertake expeditions to these peaks. Nepal Peak Climbing is another prime attraction of Nepal.The Mountains of Nepal have stood as irresistible landmarks for the world's adventurers since Nepal opened its doors to visitors in the 1950s. Mountaineering can range from climbing the highest peak of the world to climbing lower peaks. Although by Himalayan standards 33 Trekking peaks are consider minor peaks, they nonetheless provide snow and ice climbing and are technically quite challenging. Mountaineering teams can apply permit at mountaineering section of the Ministry of culture, Tourism and Civil Aviation. Nepal Visitors Trekking offers Nepal Peak Climbing packages. Where we provide gear, food, and transportation. Guides, porter service and also arrange for insurance coverage. Knowledge of altitude sickness and acclimatization process is a must for every mountaineer. The fatal sickness, also known as Acute Mountain Sickness (AMS) is a danger for climbers ascending 3000 meters and above. Symptoms include headache, loss of appetite and sleeplessness. Immediate descent or evacuation to lower altitude is the best cure.

Island Peak Climbing - This is the most popular trekking peak in Nepal. From Dingboche the mountain is seen as an island in a sea of ice. The summit is interesting and attractive with a highly glaciated west face rising from the Lhotse Glacier.Nepal's one of the most popular trekking peak situauted in Khumbu region. The peak can be seen from Dingboche as an island in the sea of ice. The summit is interesting and attractive with a highly glaciated west face rising from the Lhotse Glacier

Mera Peak Climbing - Mera peak is considered one of the major and popular trekking peaks in Nepal. The Peak itself rises to the south of Everest. The ascent of the peak is technically straightforward, however, the heavy snow and the maze of crevasses can make the way longer to the summit. Besides the charm of climbing Mera Peak, the trek to its base camp from Lukla is rewarding for experiencing little-visited and as yet unspoilt region of Nepal with densely forested hill sides.

Lobuche Peak Climbing - Known as Lobuche among the Locals, this peak is an attractive summit offering a variety of existing routes and wide scope for new lines. This peak rises above the town of Lhauche which is just a few kilometer from the Mt. Everest. There exist two distinct summits on this peak and our objective is to get on the 6,119m. High eastern summit. Our climbing route on this peak is South Ridge. The recorded first ascent on this peak

Paldor Peak Climbing - Paldor Peak (5,896m) is located in the range of Ganesh Himal of central Nepal. The Name Ganesh is taken from the best worshiped Hindu god Ganesh who has Elephant headed Hindu God of good luck. Including Paldor there are few other peaks opened for climbing. Paldor is one of the very early climbed Himalayan Peaks in Nepal. It was climbed by Bill Tilman (Pioneer British explorer in the Himalayas) in first time at 1949.

Cholatse Peak Climbing - Cholatse (6440m) also called as Jobo Lhaptshan is located in at the Khumbu Himalayan Region. Cholatse is connected to Taboche (6,501m) by a long ridge. Cholatse Peak is very hard to climb than other peak in Nepal. Only few climbers scaled this peak. Climbers need a vast mountaineeting ability to climb this peak.

Kwangde Ri Peak Climbing - Kwangde Ri (6011m) is also called Kongde Ri and Kwangde dominates the south-west of Namche village the gateway to Everest. It is a difficult mountain to climb. Kwangde Ri with It forms an impressive multi-summited ridge at the eastern end of the Lumding Himal, which in turn is part of Rolwaling Himal. The mountain stands above the Bhote Koshi River to the south-west of Namche Bazar. The northern part of the mountain forms an impressive barrier having several steep ridges to the north.

Yala Peak Climbing - This is a climbing trip in the Langtang valley north of Kathmandu . Yala Peak is one of Nepal's easier trekking peaks, and suited for anyone with trekking experience, just to the north of Kathmandu in the beautiful Langtang valley region, this 5500 meters peak is situated in a beautiful valley of rich grazing pastures and Tamang people, Climbing Yala peak not require mountaineering experience. From Katmandu we drive to Dhunche or Syabru Bensi, then trek up the valley for three days.

Langshisha Ri Peak Climbing - Langsisa Ri Climbing Peak (6427m) is situated in the Langtang Trekking Region and. It is the technical and challenging peak those who really like to have adventure and use their experienced with full climbing equipments such as rope, ice-axe, tent, can choose this peak to climb... So you need the aquire necessary skills and confidence

Naya Kanga Peak Climbing - Naya Kanga Peak also known as Ganja La Chuli is a popular trekking peak in Nepal situated in Langtang region,is a shapely mountain rising to the west of the Ganja La (5122m/16800ft) which is a popular, although at times difficult, pass giving access to Helambu and the Kathmandu Valley. The normal route of ascent on Naya Kanga is via the North-East Ridge, an aesthetic line on snow and ice, classically alpine in character.

Kusum Kangaru Peak Climbing - Kusum Kanggaru is a mountain in the Himalaya of eastern Nepal. This mountain is regarded as a technically very challenging climbing peak. Kusum Kangaru is an impressive rock and ice peak, which forms the border between the Dudhkoshi in the south and Hinku Valley in the north. Its name comes from Tibetan and means the "Three Snow-White Peaks" which refers to the triple summit of the mountain.

Pachhermo Peak Climbing - This Pachhermo peak 6187m, located in a Rolwaling region, can be approached either from Rolwaling or from Khumbu. Both treks have to be fully organized as there are no tea houses. This peak lies south of the Tasi Lapcha, when seen from the pass the mountain is really attractive. It is a straightforward snow peak first climbed in 1955. This is unnamed on the Schneider Rolwaling Himal map, but is given a spot height of 6,273 metres.

Ramdung peak climbing - Ramdung, also called Ramdung Go, is one of the cluster of peaks around the Yalung La (5,310m/17,421ft), a pass giving access to the upper Rolwaling from the south, via the Khare Khola. The peaks in the area were first explored by Scottish Himalayan expedition, led by Bill Murray in 1952, when three of the peaks

Chulu West Peak Climbing - The Chulu West (6250m) expedition is the most challenging for climbing and expeditions and will appeal to those looking for a real adventure. Previous climbing experience is not essential but a very high level of physical fitness is required. Ascent of Chulu West and Chulu Central are best made from a base camp in a small valley north of Manang situated off the main trail to Thorong La pass 5416m.

Singu Chuli Peak Climbing - Singu Chuli is the mountain formerly known as Fluted peak. Singu Chuli lies to the North of Tharpu Chuli along a connecting ridge. This mountain is a much stiffer proposition than Tharpu Chuli, and is the highest of all the trekking peaks in the area. There are no straight forward routes up the mountain. The normal approach is a day or two beyond Machapuchare Base Camp (the last buildings or people you are.

Pisang Peak Climbing - Pisang Peak rises above from Pisang village and yak pastures in a uniform slope of ice and snow to the final summit pyramid. Pisang peak is considered one of the easy climbing peaks among the trekking peaks in Nepal. To reach the base camp from Pisang village, the path ascends through sparse wood and pasture to a Kharka at 4,380 meters (14,366ft) which is considered the best place for setting up the base camp.

Tharpu Chuli Peak Climbing - The glory of Annapurna Sanctuary are well known to regular tourists to Nepal. The sanctuary offers you magnificent views of the mountain panoramas, lies at the South Face Base Camp of Annapurna And right in the middle this all is Tharpu Chuli 5663m. where the surrounding peaks are presented in all their glory from summit, The South Face Base Came of Annapurna is the finest ascent to the climbing teams

Chulu East Peak Climbing - Chulu East to the north east of the Annapurna Range is an ideal objective for those extending their climbing experience beyond the trekking peaks of the Everest region. It is also well suited for an expeditionary style ascent with group members playing an active role in establishing the intermediary camps while preparing for the summit.

Dhampus Peak Climbing - Dhampus peak (6012m) is situated in the heart of the Dhaulagiri region. this peak is also known as a Thapa Peak ... In terms of climbing technicalities, it is an easy mountain to ascend. The overwhelming altitude differences between the Annapurna and Dhaulagiri ranges make Dhampus Peak a very vantage spot to observe the mountains with Tukuche Peak (6920m) and Dhaulagiri (8167m) spectacularly close to you.

Tilicho Peak Climbing - Tilicho peak (7135m) is a little bit hard to climb than the other mountains having height of the around 7000m. The way to this mountain climbing has two ways up to it's base camp. One way goes via Marshyangdi valley route and another way goes via Kaligandaki valley route. If the teams go through Kaligandaki valley then it is very hard to cross the Messocanto pass

Hiunchuli Peak Climbing - Hiunchuli 6441m lies in the Annapurna range like other two peaks Tharpu Chuli and Singu Chuli. Which forms a massive south-facing wall together with Annapurna South. This is considered a sacred mountain of Gurung ethnic. This peak is one of the difficult peaks climbing in Nepal. It can be climbed from southeast face and northwest face.