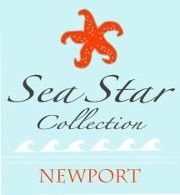 Sea Star Collection
Newport Boutique Sea Star Collection™ Celebrates Grand Opening April 12th 
Popular online store expands with new Bellevue Avenue storefront location  
Newport, RI –  Sea Star Collection™, a boutique of seaside inspired home furnishings, artwork, and jewelry is excited to announce the opening of its new store, located on historic Bellevue Avenue in the heart of Newport, Rhode Island.  To celebrate the opening, Owner Pam Akgun will host a ribbon cutting and grand opening event at the new boutique location located at 148 Bellevue Avenue on April 12th at 5:30. The open house will reveal some exciting new additions to the seaside inspired home furnishings and jewelry collection.
"I am delighted to join the Bellevue Avenue shops and Bellevue Avenue Business Association with my new coastal themed boutique.  As a Rhode Island native, opening a shop here in Newport is a dream come true!  Please come in to say hello and come back often." says owner Pam Akgun. 
About : The Sea Star Collection™ (SSC) is a boutique experience in the spirit of sea-side living.  The store represents this seaside essence through select home furnishings, jewelry and quality Giclee reproductions of the founder's original artwork, and other artists. The Sea Star Collection's select offerings activate emotions and memories while refreshing the soul.  Home is our primary dwelling place.  Based on the notion that the ocean inspires, Sea Star Collection plans to transform key rooms such as bath, reading areas and bedrooms into luxurious reminders of sea-side living.  These rooms become as essential to visit as a quiet seaside get-a-way.