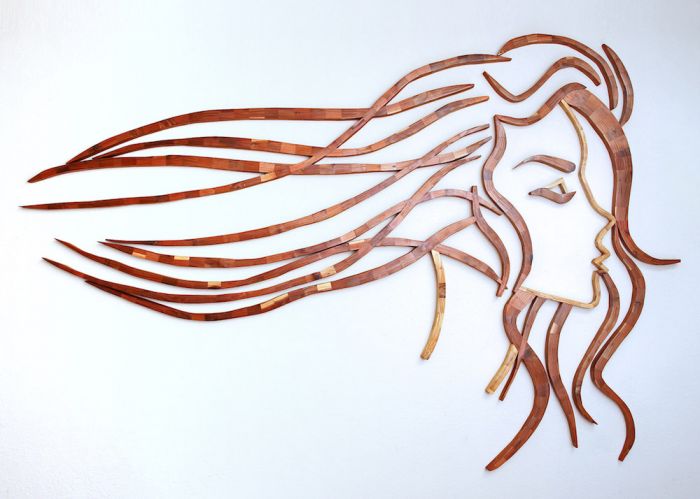 Photos Credit: Nick Lopez
Nick Lopez didn't originally turn to wood as an artistic medium. Rather, he found himself with a lot of extra wood on his hands from his work as a builder and remodeler. His natural creativity and knowledge of woodworking soon led him from construction into the fine art world, creating beautiful functional works of art out of scrap wood. Understanding wood and the careful meticulous process of creating works has led Nick from the redwood forests of California to countries all over the world. Each place brings new inspiration for the creative works that Nick has continued to evolve over the years. Nick tells JustLuxe about his path to the art world and his ongoing love affair with woodworking.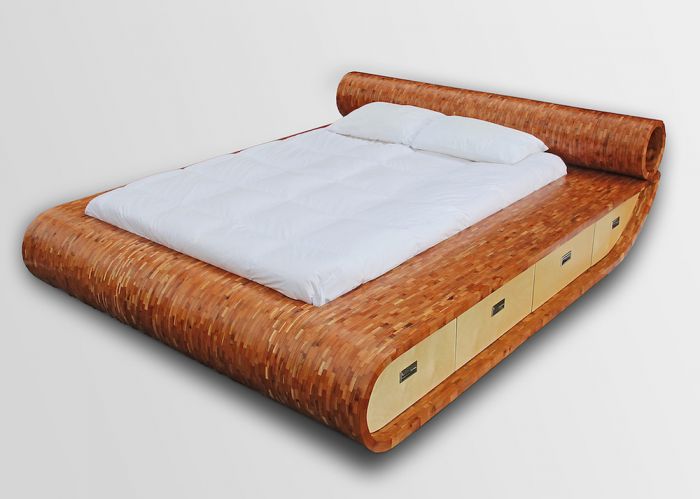 When did you start working with wood?
I've been working with wood all my life although it was for the building and remodeling of houses. I started seriously focusing on my functional art pieces in the beginning of 2013.
You design Functional Art pieces from reclaimed wood, much of it out of old growth California Redwood. How did that approach begin?
I was in a position where I had an abundance of time as well as an abundance of old growth redwood which I was actually using for firewood. As I was cutting up piece after piece I realized what a waste it would be to simply burn it and I knew I could do something better with it. Old growth redwood is such a naturally beautiful wood and there isn't a lot of it left. The trees are protected so you can't just go into a lumber yard and buy it new.
You began working in the construction industry, was the game plan to move from that to the fine art arena?
I've always known that I didn't want to work in construction for the rest of my life, but it's something that I'm quite good at, and its suited my lifestyle quite nicely. I never planned on becoming an artist and if someone had told me 5 or 6 years ago that I would be involved in the art world I definitely wouldn't have believed them.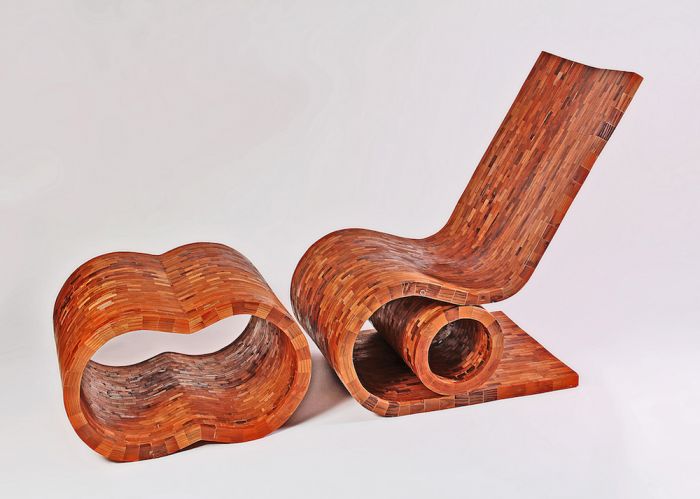 Much of your work are pieces that people can use such as chairs, beds and mirrors, yet they are also pieces of art. Other pieces aren't Functional Art, but more traditional. Is your creative approach different from one to the other?
The creative process is essentially the same but the building part for a functional piece usually requires a lot more thought. I have much more freedom when working on a piece that isn't going to be functional. There are no preconceived notions of how it should be, it can just be.
Many of your pieces could be shown in galleries, or could be a functional piece in someone's home. Do you have a preference of where and how your pieces are shown?
I like the minimalist style of galleries only because I feel it makes the work stand out more, but ultimately, I want my pieces to be appreciated and enjoyed. As long as they are getting exposure I don't mind where they are shown.
You've traveled quite a bit. Where have your travels taken you and how do you think your travels have influenced your art?
I've been very fortunate to have travelled so much. From Australia to South East Asia, India, all over Eastern and western Europe, Japan, Morocco, and of course Mexico and Canada. Traveling opened my mind and made me realize that there is a whole world out there whether you're in it or not. It forces you to see the bigger picture, think much bigger.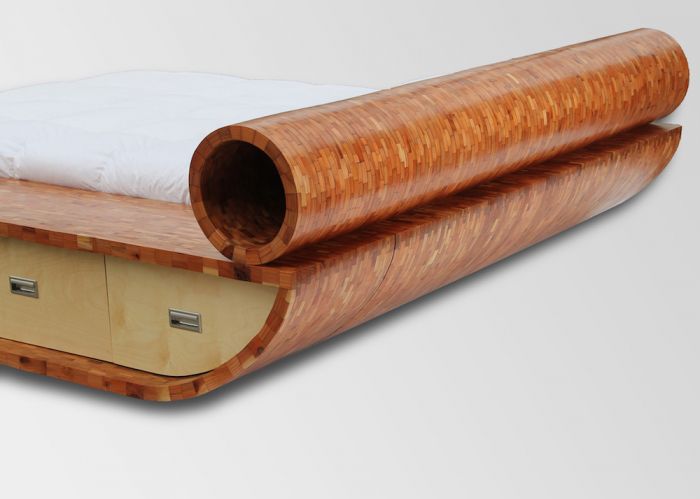 Which artists have influenced you the most?
Two of my best friends who are both artists, Kaveri Singh and Mark Zimmermann. They both are very talented and successful painters. Watching them work has taught me to be confident about the work I create, and to be honest and real with yourself. Just let the work come out of you naturally.
How would you define your style?
Since I began working with wood my style has evolved organically. Initially I was letting the wood define the style, then as I grew more confident in my work I began to produce pieces that I felt were uniquely my own, although I don't have a specific term that would describe it yet.
How do you think your work has changed over the years?
The pieces of wood I use have gotten smaller and smaller. Actually, the pieces have gotten more intricate because I've realized that by creating with lots of small pieces there is very few restrictions to what shape or form you can create. Your only obstacle is your own mind. If you can dream it up, you can make it.
Do you have any upcoming shows or exhibits?
My next show will be At the WestEdge Design Fair at the Barker Hangar in Santa Monica, October 19th-22nd. And I'm online at http://nicklopezstudio.com.