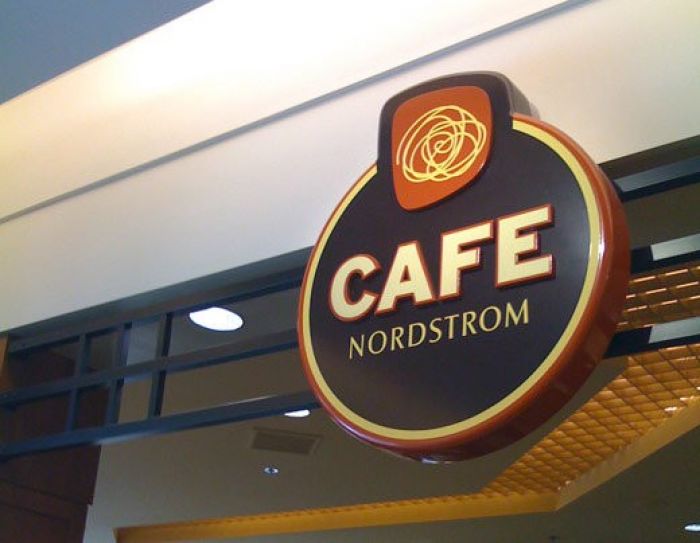 Cafe Nordstrom
We love finding a great restaurant tucked away in an unusual spot. That's just what happened when we discovered the hidden gem, Café Bistro, located inside the Nordstrom retail store. Those in the know head to the upper level of the high end retail store at the South Shore Plaza in Braintree for some reasonably priced dishes served up in a comfortable atmosphere.
The setup here is a bit unusual as when you arrive, instead of a hostess getting ready to serve guests, there is a cashier ready to take your order. Once you have decided what you would like to eat and drink, guests prepay in advance at the cashier and are then led to a table in the main dining room. During the busy holiday season, this system is designed to reduce wait times for both guests receiving food and servers placing orders to the kitchen.
Our friendly server Jenna greeted us as we got started with a bowl of French onion soup, a generous portion filled with tender onions and a cheesy brown topping of provolone and gruyere cheeses. There is a nice selection of salads here, which include blue cheese and pear, chicken artichoke with goat cheese, warm Asian glazed chicken and cilantro lime shrimp.
All of the entrees here are under $20 with the majority under $15, making it one of the best deals around. Families love the open kitchen where diners can watch as chefs top pizzas for the brick oven and prepare sandwiches, salads and comfort food dishes using organic foods.
Be sure to try one of the brick oven pizzas – we recommend the pizza di parma, a delicious combination of spinach, sweet tomato sauce with aged provolone and parmesan cheeses topped with fresh arugula and thinly sliced prosciutto on a nice crisp crust. For main events, we sampled the tasty sautéed chicken and angel hair pasta, a scrumptious bowl filled with chicken in a roasted garlic tomato sauce tossed with baby spinach, oyster mushrooms and rosemary butter sauce and a generous side of angel hair pasta. (The café offers a nice selection of wines by the glass or bottle – we enjoyed a bottle of Rock & Vine cabernet, a complex red wine with hints of blackberry, spice and sweet oak that paired up perfectly with our dishes).
The declared winning dish was the pappardelle pasta with braised beef, a hearty plate of papparedelle pasta and braised short ribs tossed with a tangy tomato ragout, wild mushrooms topped with fresh shaved parmesan cheese. While we didn't save room for dessert, we look forward to trying the white chocolate bread pudding on our next visit.
Café Bistro is located at 250 Granite Street in Braintree at the South Shore Plaza. For more information, call (781) 519-7200, ext. 1610 or visit them online at www.nordstrom.com.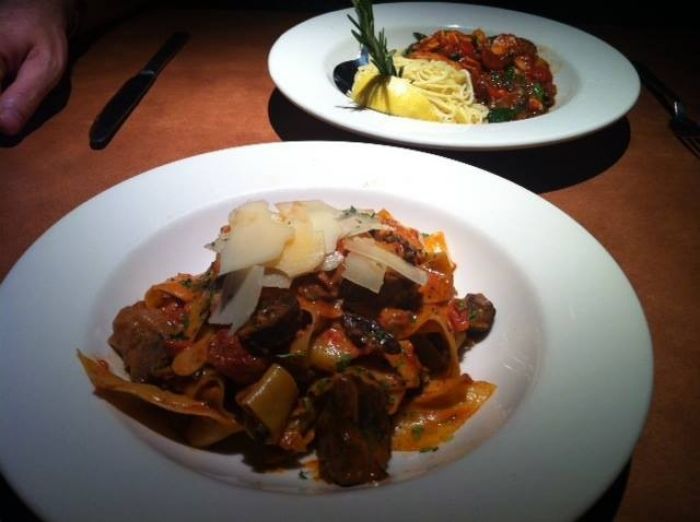 Kellie Speed