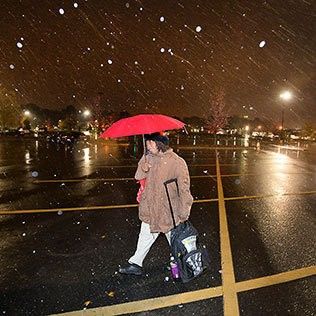 Todd Sumlin
Those looking to get a jump on the winter season might want to think about heading to Charlotte. The city has already seen snowfall, which, in November, is pretty surprising for the North Carolina city. The sad news, though, is that it looks like the snow might not layer this time, but if the season keeps going like this, they're sure to have a white Christmas.
Wind, rain and a few snowflakes were expected to usher in the coldest weather snap so far this fall.
The National Weather Service forecast a low of 25 degrees on Wednesday morning and a predicted high of only 46 in the Charlotte area.
"It's definitely going to feel like winter," said Larry Gabric, a meteorologist with the National Weather Service's Greenville-Spartanburg office. "The temperature will be 15 degrees below normal." Read More
A rare November snowfall was followed by unprecedented early-season cold weather Wednesday morning that left Charlotte-area residents bundled up in mid-winter style.
The temperature reached an unofficial low of 21 degrees shortly before daybreak at Charlotte Douglas International Airport. That not only broke the previous record for the date, 25 degrees in 1911, but it was the earliest ever for such a cold reading in Charlotte. Read More
While others may be lamenting the first flakes of the season -- Anja Workman, of Charlotte, is clearly excited!
"It was beautiful," she exclaimed. "Makes me think of Christmas and the holidays and I'm ready for it." Read More