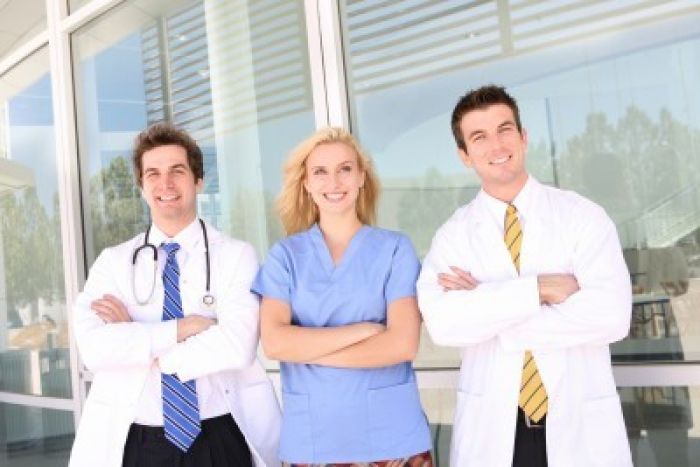 The field of healthcare management is quite simply growing in leaps and bounds, with an estimated 100,000 professionals serving in direct healthcare management positions with nearly six million other healthcare-oriented jobs that either exist or will be formed in the next decade. These positions span a wide range of skill sets that are currently needed in healthcare, healthcare administration and healthcare management support roles. Because the field of healthcare as a whole is exploding with growth and new opportunity, this is attracting an increasing number of students as well. These students enroll in programs to learn healthcare management online and offline, but even as they apply themselves to their studies, they always have a careful eye trained on the healthcare management jobs that they personally aspire to win following their graduation. There are many different places where graduates who hold a degree in healthcare management can find work, and new jobs are being created every day. Learn about twelve of the most popular places to find employment in healthcare management and decide if one of these tracks is a good fit for your career goals.
The First Place to Turn To
One obvious place to find employment once you hold an advanced degree in healthcare management is in education. You can serve as a teacher or a professor at a local brick-and-mortar campus or one of a growing number of higher learning institutions that offer classes online. In this role, you can put your own education to work training the next generation of healthcare management professionals. While typically only doctorate-level candidates may elect to go straight from the classroom as a student to the classroom as a professor, the door to becoming an educator is always open starting at the masters degree level, especially once you have some years of relevant work experience under your belt. The second and third common places where healthcare management jobs are plentiful are in health insurance companies and health associations, respectively. Healthcare insurance is a critical facet of obtaining care, and managers are always needed to oversee operations and benefits administration and many other aspects as well.
Six Stones at Once
The fourth, fifth, sixth, seventh, eighth and ninth places to find a plentiful number of jobs are all in direct care institutions, including hospitals, clinics, rehabilitation centers, skilled nursing facilities, physical practices and nursing homes. Each of these types of institutions needs healthcare managers and administrators, both to directly supervise the medical and nursing staff as they work with patients, and to work behind the scenes managing accounting and finance functions, human resources, sales and marketing, public relations and community relations, continuing education and training, legal compliance, and other matters that can make or break a business or nonprofit organization.
The tenth avenue for finding a wealth of healthcare management jobs is in consulting firms. There are a variety of different avenues that consultants operate in, including business operations, legal compliance, auditing, licensure and certification compliance, information technology and informatics, recruiting and training, and many other disciplines as well. Consulting firms need trained managers who understand the healthcare field from the inside out to help them structure their efforts and business practices to best serve the needs of their clients. The eleventh place for finding a great job in healthcare management is in government and public health organizations. Here, jobs may be focused on prevention, research, education and public awareness, as well as disaster relief, emergency response, establishment and maintenance of community healthcare services, and other necessary functions.
Finally, the twelfth avenue for finding a wealth of healthcare management jobs is in mental health organizations and facilities. In this area, the organizations themselves are often structured quite similarly to hospitals, clinics, and other physical healthcare facilities, with a similar need for management professionals to oversee operations in every arena of the business.
As a healthcare management professional, you may receive training in one or several facets of the field before progressing into a chosen area of specialization or into corporate management at the executive levels. Options often include finance and accounting, human resources, patient care, growth and development, sales and marketing, human resources, legal and compliance, government relations, medical staff management and more. The more you learn about your new field the more qualified you will be to take on any number of exciting new jobs in healthcare management – or even to create your own specialized job!
Jon is pursuing his nursing degree online at the moment. He encourages others to explore the many career possibilities within the health care industry.