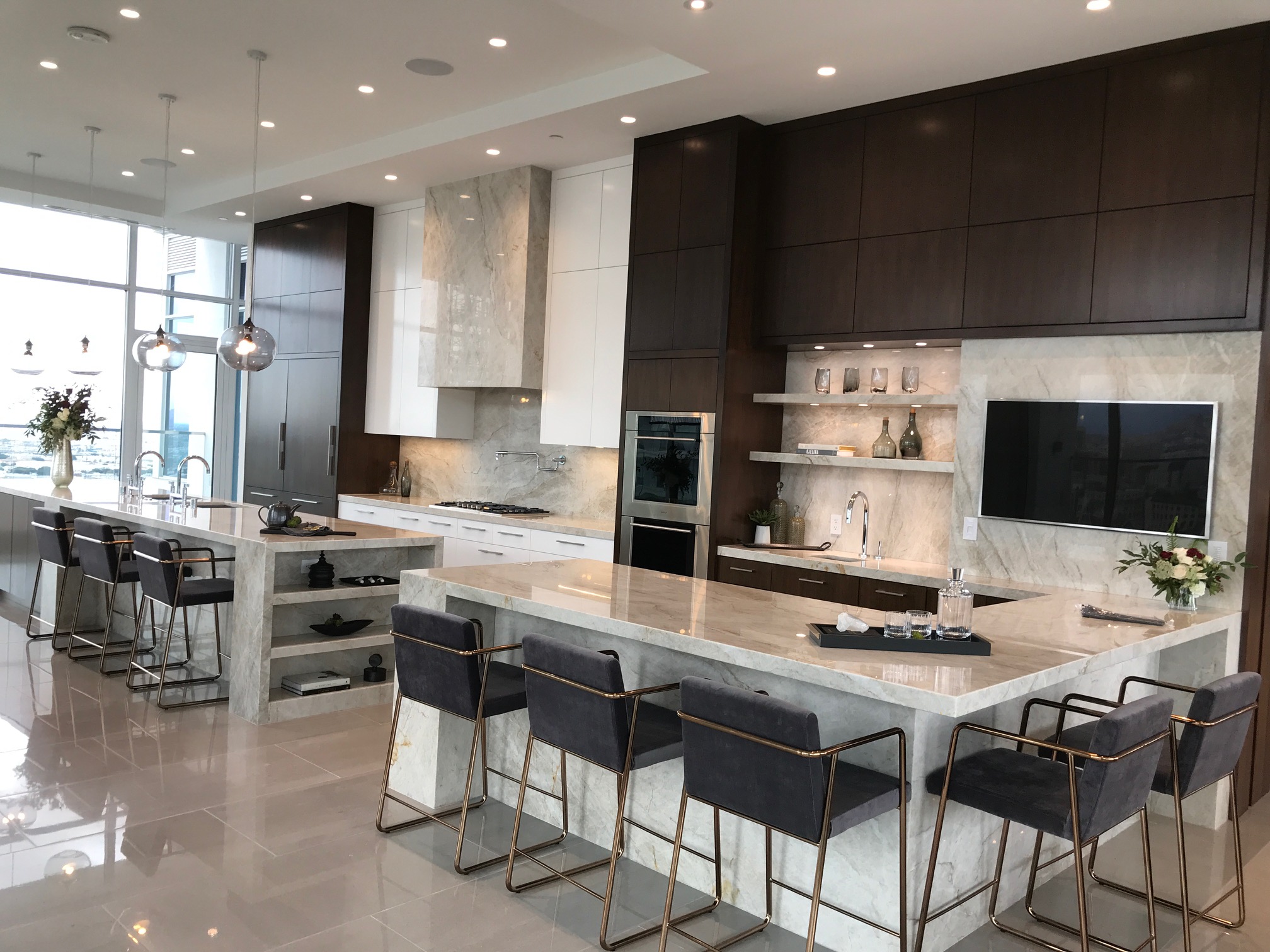 Photos Credit: Jill Weinlein
Living the lifestyle of the rich and famous in Los Angeles comes with a price. The ultimate luxury home is now available for lease by Onni in downtown Los Angeles. What do you get for $100,000 a month? Plenty.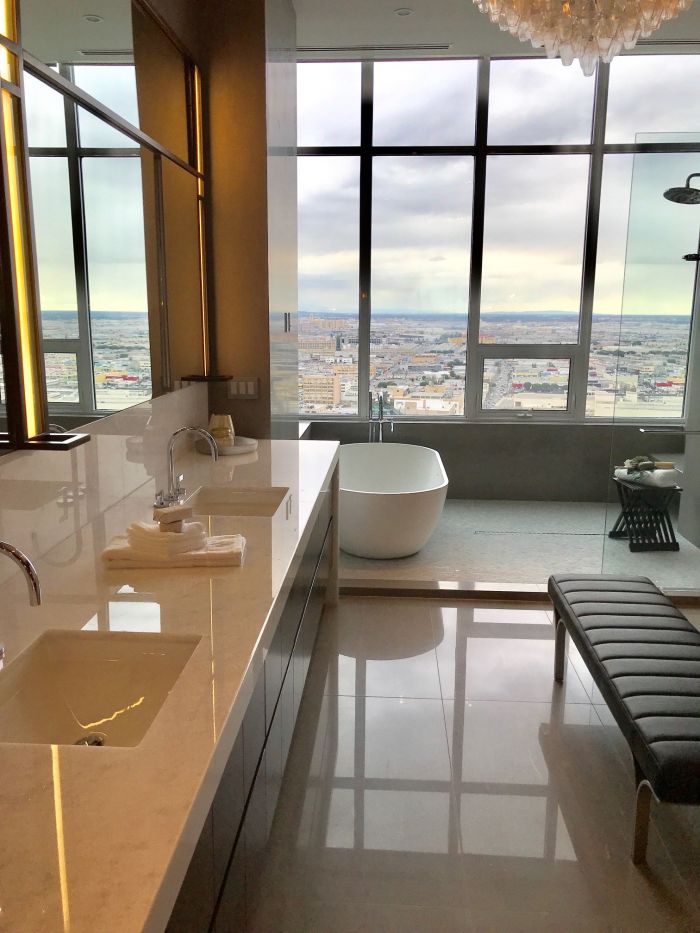 The two-level, sprawling four-bedroom, ten-bathroom penthouse sits atop downtown Los Angeles at the elegant LEVEL high-rise. Take a security elevator to the 34th floor and be dazzled by the 18,000-square-foot property with 360-degree views. Professionally designed by Robert Bailey, notice the opulent natural limestone flooring in the entry hall that continues through the kitchen, living and dining areas, as well as outdoor terraces. Warm wood paneling and accents include walnut, ash and oak. The expansive window walls maximize natural light and sweeping views of Southern California.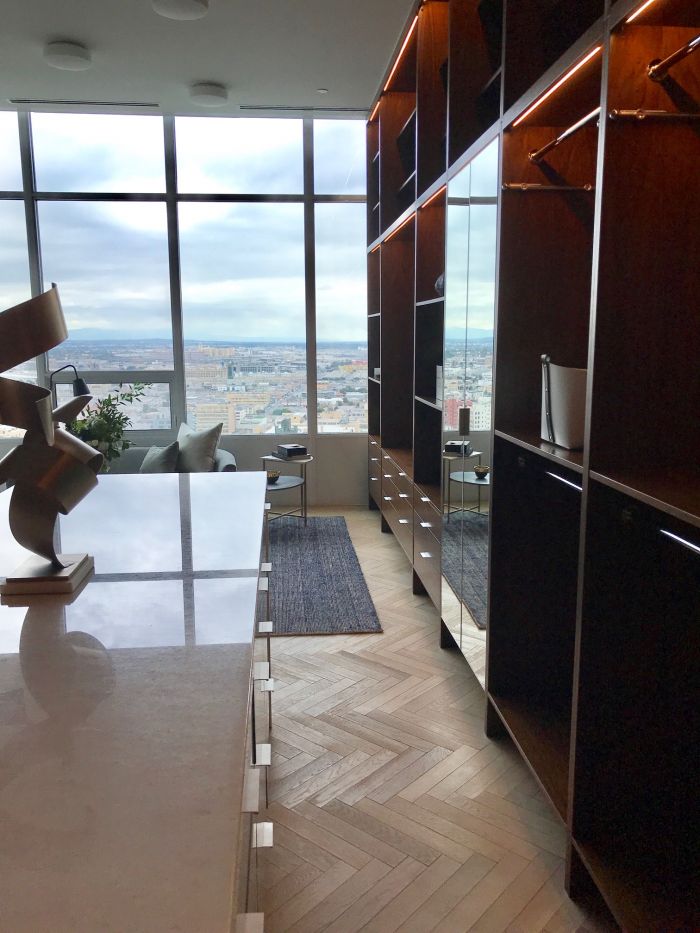 This home doesn't offer one kitchen, but four, all equipped with gourmet Wolf stoves and Sub-Zero appliances. The main kitchen on the 34th floor has an exquisite marble top from Italy.
Guests may enjoy a sit down meal at one of the two interior dining rooms. The formal dining room is set comfortably for a party of 18 guests. Adjacent to the table is one of the two temperature-contolled wine rooms with a 10-foot glass wall, holding about 550 bottles of wine.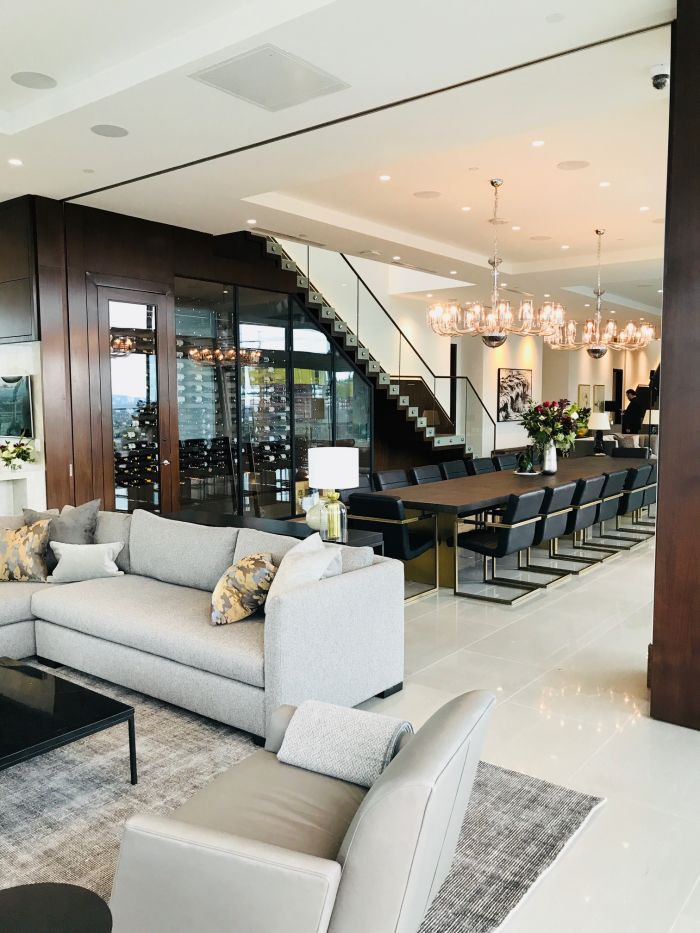 The oversized living room flows to the formal dining room, family room, and lounge with full bar set up. Guests may also retreat into the spacious media room with an automated projector screen and plush sectional seating for fifteen guests to snuggle and watch a private screening.
To venture upstairs, one walks up the symmetrical floating limestone and wood staircases underneath a 30-foot ceiling, leading to the 35th floor entertainment and outdoor activity space. Also on this level is another kitchen, muliple bathrooms, laundry and trash chute rooms.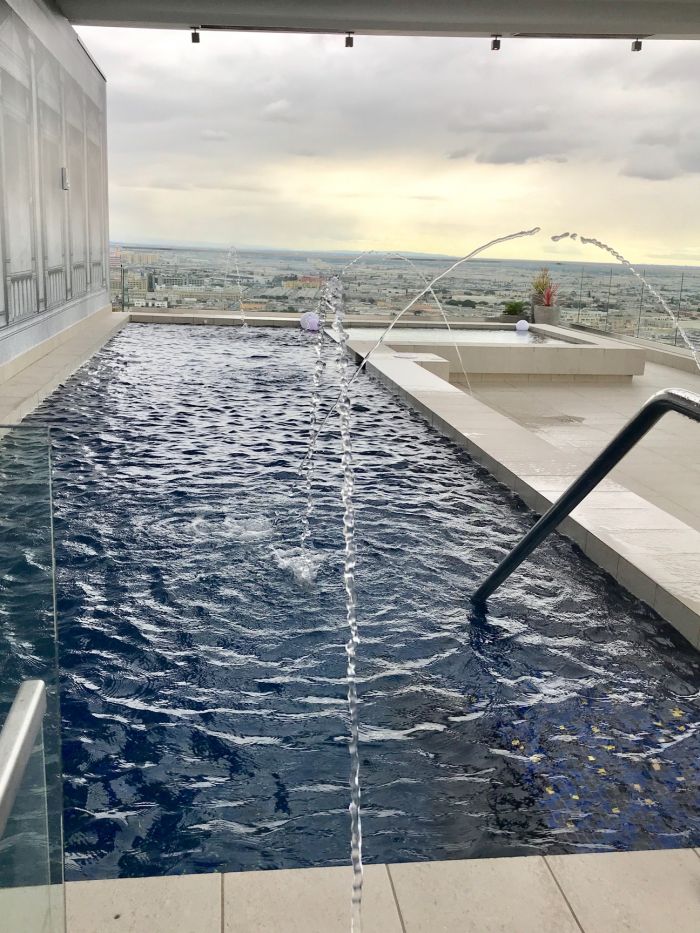 Along the terrace, wrapping around the 8,000-square-foot exterior, are views of Los Angeles to the Pacific Ocean, Beverly Hills, Orange County and Hollywood sign. The private 50-foot rooftop pool and bubbling, twelve-person hot tub offers million-dollar views. There is also a steam room, ping pong table, outdoor dining area for fourteen, BBQs and a fire pit.
Ready to retire for the evening, there are four ensuites, each with a king-size beds and private spa-shower/tub. There is a thumbprint-controlled electronic safe, and closet outfitted with built-in wood organizers and sensor lighting.
The master suite offers an enromous 480-square-foot walk-in-closet. Oversized sliding doors open to expansive terraces combining indoor and outdoor living areas. The main feature in the master bath is an oversized soaking bathtub offering miles of views. Hidden is a top-of-the-line toilet/bidet that senses your arrival and automatically raises the lid. This high-end unit offers lights, heat, water and music.
Luxury extras include butler services, a 24-hour front desk concierge, valet and individual assigned parking, housekeeping services, preferred rates at LEVEL DTLA for friends and family, in addition to access to LEVEL's 37,000 square feet of residential building amenities.