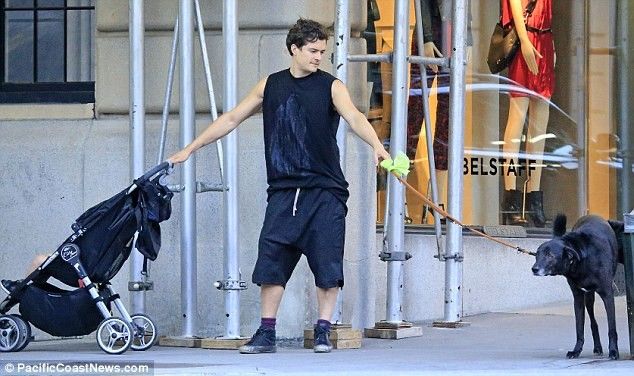 PacificCoastNews.com
With that boyish face, just about anything Orlando Bloom wears will make women swoon, but Orlando has a subtly devious fashion sense and he's not afraid to pull out all the stops. The sleveless blue shirt was perfect to showcase his toned arms, and the baggy but still fitting overall appearance emphasized that natural boyishness Bloom exudes to make a fashion ensemble that's not only comfortable jogging material, but enough to turn at least a few ladies' heads.



He played a milkman turned boxer in cult comedy The Calcium Kid.
And Orlando Bloom proved he is as fit as ever as he jogged along during a dog walking session in New York on Tuesday.
The 36-year-old gave son Flynn a thrill as he pushed him along the pavement in the Big Apple.

The two-year-old certainly seemed to be enjoying himself, and he was laughing as he sped along in his pushchair.
Unfortunately for the dynamic duo they were stopped in their tracks by their dog Sidi, who chose a particularly unfortunate time to relieve himself at a lamppost. (Read More)