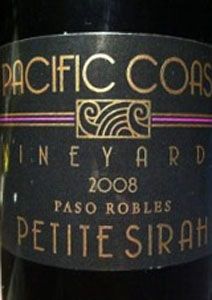 Pacific Coast Vineyards
, a family owned winery located in the heart of California's Central Coast sources grapes from small custom vineyards in the region. Sunny slopes and maritime weather patterns uniquely impact each growing season's results. Winemaker Todd Schaefer along with his wife Tammy hand selects all of the vineyards and grapes to create unique blends barrel aged in custom French and American oak barrels for 18 months or longer.
I tasted their Petite Sirah and immediately realized that I had a unique vintage on my hands. Not much is revealed on the bouquet. Spicy plum hit my palate like a Merlot but blossomed into a lighter, playful, more floral mouth feel. Notes ranging from spicy plum to dark chocolate gradually unfolded on the roof of my mouth. I got hints of dark chocolate on the finish with a pleasant decadent aftertaste. Regarding pairings, lighter less obtrusive dishes work best to showcase the flavors. Sipping straight out on the patio is best.