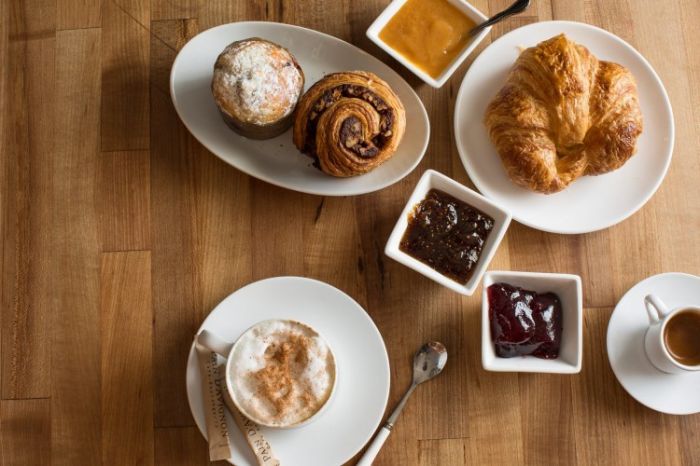 Pain D'Avignon
It's always nice when you uncover a surprising find in a familiar location. That's just what happened when we first learned about Pain D'Avignon in Hyannis, Mass.
The European bakery and fine-dining bistro located on Cape Cod is tucked away near the airport and is a popular place to stop in for a cup of coffee and a pastry to take with you on the go. We stopped by recently for lunch and grabbed a seat at the small bar area and ordered up a Bloody Mary and mimosa.
Executive Chef Matthew Tropeano has created a menu that includes everything from a not-your-average bistro burger made with grass-fed beef, Fontina cheese served on a sesame bun with pommes frites.
We got started with a grilled margherita pizza topped with fresh mozzarella, tomatoes and basil. Our friendly server, Irena, suggested we sample the day's special, a seafood salad sandwich and we were glad she did. A delicious generous sampling of fresh seafood arrived on a crusty roll served with a side of golden pommes frites. The roast turkey sandwich (a staple on the lunch menu) was an overstuffed creation of roast turkey breast, brie, butter lettuce and Dijon mustard served on toasted cranberry pecan bread. Be sure to save some room for dessert like the blueberry lemon tart, the perfect ending to a fun afternoon.
Pain D'Avignon is open daily serving breakfast, lunch and dinner with a café serving up more than 200 freshly baked breads and pastries. In 2008, Pain D'Avignon expanded to open a Parisian-style bistro adjacent to the bakery featuring seasonal French and Mediterranean inspired menus. From homemade croissants to the signature Cranberry Pecan loaf and crusty French baguettes, all Pain D'Avignon products are available through the bakery, wholesale service or via direct shipping.
Pain D'Avignon is located at 15 Hinckley Road in Hyannis. For more information, visit www.paindavignon.com or call 508-778-8588.
Pain D'Avignon
Pain D'Avignon
Pain D'Avignon