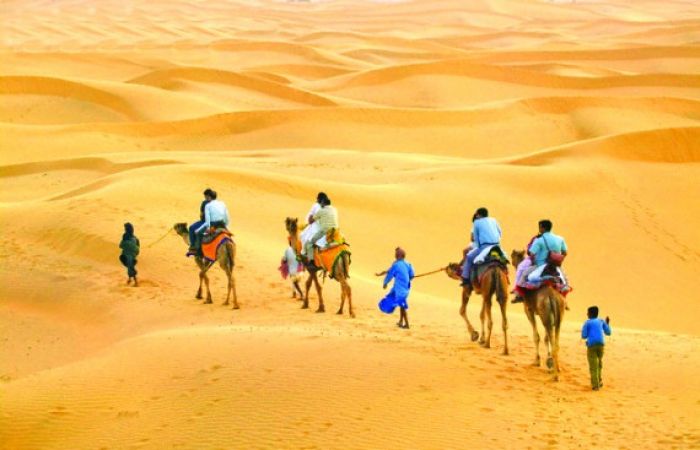 The ultimate luxury of travelling in sheer style and comfort has been translated in the Palace on Wheels! Pioneered by Indian Railways, the Palace on Wheels (POW), was launched on 26th January 1982-India's Republic Day and has ever since been the benchmark of other luxury coaches in India!.
This concept of journeying in style was adopted from the coaches of erstwhile Rajput rulers of Rajasthan, Gujarat and Hyderabad. The 14 coaches of the Palace on Wheels bear the names of  these Rajput territories, namely-Alwar, Bharatpur, Bikaner, Bundi, Dholpur, Dungargarh, Jaisalmer, Jaipur, Jhalawar, Jodhpur, Kishangarh, Kota, Sirohi and Udaipur.  Each saloon bears the logo of the 'Coat of Arms', of the erstwhile state along with its name.
Staring from New Delhi on an eight day's journey, the 'Palace On Wheels' halts at Jaipur, Sawai Madhopur, Jodhpur, Jaisalmer, Chittaurgarh, Udaipur, Bharatpur and Agra.
Every modern amenity set against the backdrop of a palatial coach makes it a truly memorable experience that you'll cherish all your life.
The air-conditioned train has twin beds on every cabin with wall-to-wall carpeting, intercom, channel music, internet facilities, telephones, safety vault for your luggage, satellite television network, DVD players et al. The twin beds within the suite replicate nothing but a regal five-star hotel with attached toilets and showers, running hot and cold water. Every coach has an attendant to cater to you! A bar within the coach stocks both Indian as well as international spirits to set your spirits soaring! Rajasthan Tour packages
The Maharaja & Maharani Couple
The gourmand in you is roused by not only a set of tantalizing Rajasthani and Indian cuisine, but also Continental, Chinese cuisines in its two restaurants-the Maharaja and the Maharani. The mahogany paneling, colorful lamps, glass carvings and the rich upholstery make dining here, an experience worth dying for!
Lounging Away
The Palace on Wheels caters to your need for socializing as much as it understands your need for privacy. Head for the 'Sitting Lounge' where you can exchange pleasantries with like-minded passengers from around the world! The lounge also gratifies the intellectual spirit in you with an amazing collection of books.
It Only Gets Better!
The recent launch of a SPA inside the 'Palace on Wheels' is the ultimate bit of luxury you can imagine!! A panel of therapists who conform to international standards, offer a range of massages and therapies that help you rejuvenate to explore more of what Rajasthan has to offer!
The 'Palace On Wheels' has your every need in mind and includes the arrangement of wheel-chairs and attendants for the physically challenged. Rajasthan Travel
So that your journey is hassle-free, there's a cr?che for your children!
Round –the- clock medical assistance is yours for the asking.
A souvenir shop within, has a wide array of souvenirs, handicrafts, artifacts and even Rajasthani attire!
If you thought journeying on the Palace on Wheels was the ultimate experience, you'll be amazed with a camel safari on the sand dunes of Jaisalmer and a Jungle Safari in Ranthambore that complement your experience!