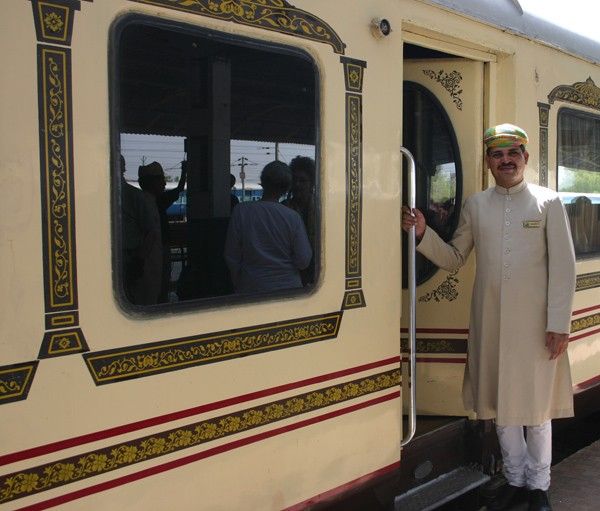 Train Type : First-Class
8days Escorted Tour
Palace on Wheels is the pioneer of the luxury train travelling in India.t was India's first hotel train and has been gaining in popularity ever since. We recommend booking far in advance.
Palace On Wheels Itinerary
Day 1: Delhi
Day 2: Jaipur
Day 3: Sawai Madhopur
Day 4: Udaipur
Day 5: Jaisalmer
Day 6: Jodhpur
Day 7: Bharatpur/Agra
Day 8: Delhi
Train departs Delhi every Wednesday, September through April.
Accommodations
The train has 14 air-conditioned carriages, each with 4 compartments with two lower beds. Curtains and bedspreads are silk. Each compartment has a private sink, toilet and shower; the compartments also have stereo speakers with a number of music programs available (and an "off" switch if you want silence), intercom and wall-to-wall carpeting.
Dining
Lounge Cars
One way to look at this train is where it goes and what it does––and the spectacular region through which it travels. It is a great way to experience Rajasthan. A few changes––thicker towels, nicer amenities, better food––could vault this train into true luxury service. A few tweaks in the program would make passengers much happier: The major complaint of our travelers is they do not like organized shopping stops. But our most recent travelers have given the Palace on Wheels very high marks, stressing the excellent service, which means the train is taking our evaluations seriously.
This upcoming season of Palace On Wheels train booking Ticket has already been sold out .Do not miss that beautiful chance to be this wonderful Luxury train in occasion of New Year and make your reservation today
Contact Us
70, L.G.F, World Trade Centre,
Barakhamba Lane New Delhi-110001
Tel: +91-11-2568 6868
Fax: +91-11-2568 7110
Mobile:+91-9717179408
Email: query@palacesonwheels.co.uk