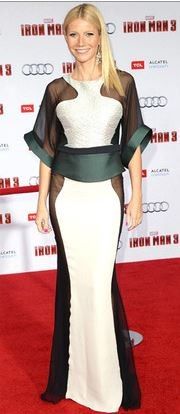 Jason Merritt/Getty Images
British fashion designers have been gaining a good amount of attention lately, and surely a portion of that is due to Gwyneth Paltrow's recent love of the regions clothes.
Every once in awhile, even A-list celebrities need to take a break from the hustle and bustle and take a moment to reflect on their favorite fashion moments.
For Gwyneth Paltrow, she recently realized that she's been wearing a smattering of striking styles designed by British talent (including Antonio Berardi, Erdem and Victoria Beckham), and took  to Goop to analyze this recurrence.
In today's blog, she asks her trusted stylist, Elizabeth Saltzman, to break down a few of her recent red carpet looks from the Iron Man 3 press tour and source "a bit of wardrobe inspiration from some of her favorite British designers and labels of the moment." Read More