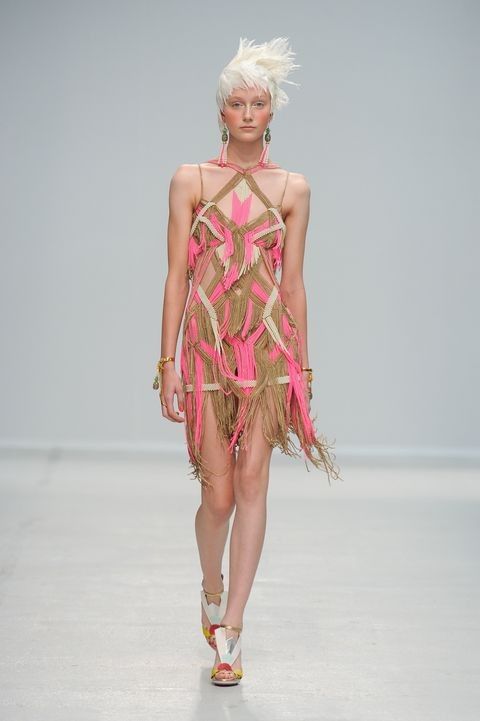 Totem Fashion
Mannish Arora - Designer Collection for Spring 2014
PALAIS DE TOKYO September 26, 2013
by Pikke Allen
This was a show that took me from Japanese Anime to the 1920s flapper with a stop in between at a Rave Night. What was great about this collection was that I had no prior exposure to this designer; he could have been from anywhere on the world fashion stage. His use of materials and ornate mixes of plastic, glass chains, beading or industrial strength fringe were a riot of cartoon colors. The models were like moving dolls from a Japanese Anime show and a then just a dash of Bollywood. This designer has been taken in by popular culture as well as a sense of period: a challenging mixture, indeed. But I was drawn to the looks of a '3-D' Pucci style dress perfectly tuned for the Riviera in Italy or France. I can see these clothes in the boutiques along the Croisette in Cannes and the girls parading own the walkways during the Film Festival.
I was not convinced that Josephine Baker was in the room, but I am sure that the designer's idea of 1920s Paris was present in these fringed anime dresses, which were my favorite in the show. They were sexy, fun, spirited and a bit more avant garde for the person bored with the usual suspects. I also loved that the wigs and sunglasses that were a bit otherworldly, as if a chic martian ship of ravers had landed just for a night of partying. And, what a party it was; the front row contingent was dressed in assorted inspirations taken from the book of the designer's 'TopHits'. Camera's were clicking loudly as they each stood up for their 15 seconds of fame.
I did go to the Pop Up Shop to get the full 'Arora Treatment' at the Palais Royale arcade, a favorite haunt for the fashionistas who want to do serious shopping. There, I was taken in by the riot of color from the designer's native India: the typical Indian style graphics were side by side with gorgeous dresses and accessories all in the spirit of this melding of cultures. Let me describe a moment, in the world of Mannish Arore: You are taken in by the sheer ornate quality of the bold surface designs that are both three-dimensional and luxurious. You take a step closer and you realize that you are not looking at LESAGE beading from Paris, but perhaps something different, a bit more urban, but with the skill and taste of French Couture fashion; beading, for the people, if you like.
Once you get into the spirit of it you can't go back, you are totally hooked on the world of Manish Arore. It was a happy-go-lucky show that made me smile and I really loved my first introduction to it.
For further information on shopping Manish Arore and his website:
Manish Arore Website: http://manisharora.com/
Totem Fashion
Manish Arora
Totem Fashion
Manish Arora
Totem Fashion
Manish Arora