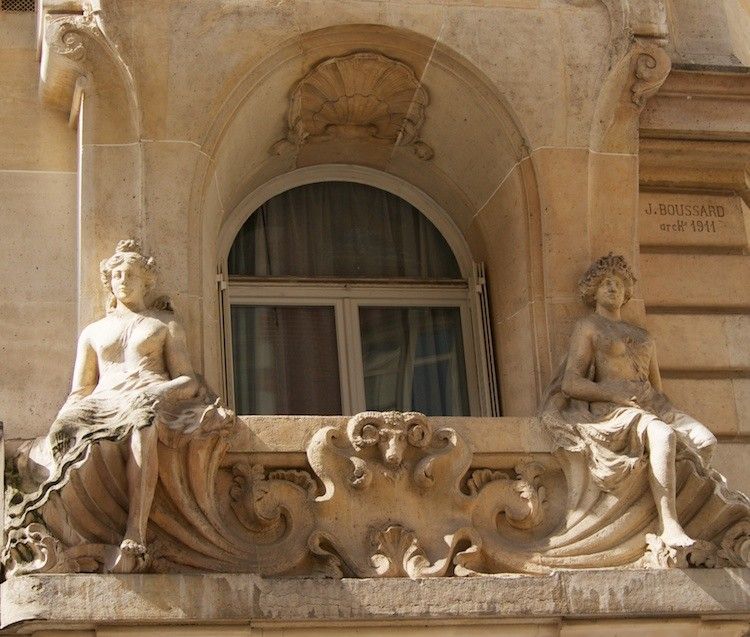 Columbia Hillen
With Paris being one of the world's best 'strolling' cities, there's no better way to understand its layout as well as learn about its history and development than to join one of the organised walking tours there.
'Paris Walks,' established in 1994 by Peter and Oriel Caine, is one of the most long-standing, offering multiple options as diverse as the Medieval Latin Quarter, Pere Lachese Cemetery, the French Revolution, the Village of Montmartre, as well as chocolate and fashion tours. With Oriel holding a masters degree in history and French literature and Peter, a degree in history and history of art, they published a book, 'Paris Then and Now' in 2003.
While there recently for a week's vacation, my wife, Columbia, and I selected three particular tours to join. Below are our experiences.
ART NOUVEAU ARCHITECTURE- On a bright Spring afternoon, outside the Metro Ranelagh, we met up with Richelle Sheppard, a slim, blonde-haired American lady and a group of around twelve people for a two-hour insight into the world of art nouveau architecture, or 'noodle art' as some termed it.
At its most popular for around twenty years at the end of the 19th and beginning of the 20th centuries, this art form was recognized by its lack of symmetry, use of organic forms such as ferns, flowers and the female body, and materials such as metal, cement and glass. The elegant 16th district was chosen for this particular walk as fine houses were developed here in the late 19th century, making it famous for its variety of attractive designs and imaginative decoration among parks and gardens.
Though originally from Mississippi, Richelle, a fashion specialist and costume maker by training, has lived in Paris for around 20 years and her husband is an architect. She was obviously well informed on the subject as she effortlessly introduced her group into the world of building design and structure.
"The well-to-do urban bourgeois of the 19th century wanted to show their worth," she explained as we set off. "One way was through the facades of their homes." One of the first places we stopped at reflected this, with three very different architectural forms close beside each other – a Loire-style tower, a Greek-designed roof and a gingerbread house.
Art nouveau arose from a desire for change away from the prevailing historicism of Neoclassicism style of the time and Hector Guimard was foremost in promoting it. During the walk we had several opportunities to examine closely his work, including the impressive Le Castel Beranger, built in 1897, with its stone turrets, intricate stained glass, air vents like spiders and what looks like metal noses above the wrought iron entry gate. The architect staged an exhibition of the building and its contents in the Salon du Figaro in 1899, while simultaneously publishing a book of the work under the title, 'L'Art dans l'habitation moderne. Le Castel Béranger.' So prominent did he become, Guimard was commissioned to design some of the facades for the new metro stations at the time of the 1900 World's Fair, including the Porte Dauphine station.
Not satisfied with focusing simply on art nouveau, Richelle also brought us to see examples of art deco and modernism – the architectural genres that followed - to illustrate context and change. From one single spot, for example, we could see the Radio France building with its curved 'camembert' shape; an example of 1960's Paris high-rises; and the ornate Eiffel Tower built in 1889. Other architectural styles shown to us included an avant-garde, cubic-shaped villa by Le Corbusier, the 'ocean liner' shaped structures created for social housing after World War Two; and villas created by Robert Mallet-Stevens.
FASHION WALK – Even more in her element during this walk as a former costume maker, Richelle met us outside the Comedie Francaise, and immediately taught us about the importance of the Palais Royale during the reign of Louis XIV as the center of fashion. With anecdotes spanning the centuries – from how fashion was used to control and express power in Royal Courts to howCarla Bruni-Sarkozy queued for three hours to audition for a Jean Paul Gautier show – we were taken through old arcades now hosting some of the world's most famous fashion designers such as Stela McCartney, ACNE, Serge Lutens, Didier Ludot and Christian Louboutin. Even if one is not a fashionista, there is enough informational variety during this walk to keep one entertained, including a stroll past one of the oldest restaurants in Paris serving gourmet food since the 18th century, or entering the hidden world of arcades where you can have shoes made to measure using the latest technology or enjoy lunch in the eatery where part of the movie 'Something's Gotta Give' starring Jack Nicholson was shot.
HEMINGWAY'S PARIS – Like many of the walking guides, Christopher Spence is a non-native Parisian, hailing from Stevenage in southeast England, but has lived in the 'City of Light' for 16 years.
A former rock singer and musician, Christopher is more extrovert than Richelle, his style being best described as humorous with a playful sense of irreverence about some of the people and places featured in his talk, all sprinkled with amusing anecdotes. Again, as with Richelle, his walk - though retaining a focus on the Illinois-born 1954 Nobel Prize winning author – also encompassed many other subjects, ranging far beyond the central core subject than did Richelle's. These included quirky architectural features of particular buildings and changes in religious protocol.
We met him outside the Cardinal Lemoine metro in the 5th district whereupon he blithely announced that he would be leading us on a five-hour walking tour in Polish. This set the light-hearted tone for the afternoon. Christopher had a firm grasp on various details about writers living in Paris with Hemingway during the 1920s, including James Joyce, George Orwell and F. Scott Fitzgerald. He explained that the generous exchange rate for the US dollar over the French franc meant living there was relatively easy for American bohemian-types then, providing what he described as an 'anything goes' kind of lifestyle. We were shown where Hemingway lived – though we could not go inside - and also the studio several hundred yards away that he rented for writing, adding that the great man of letters "ate tangerines and drank cherry brandy' there.
While standing in front of an apartment tucked quietly away off a main street where Joyce worked on his final draft of 'Ulysses' Christopher also explained the relationship between the Dublin-born writer and Hemingway, quoting from the latter's book, 'A Moveable Feast,' a nostalgic look back at his Paris sojourn written a year or so before his death in 1961, in which he describes Joyce getting into fisticuffs in bars and cafes that Hemingway then had to sort out. He also gave insights into the expat literary world of the time there, delving on the importance of Sylvia Beach who established the bookstore, Shakespeare & Company, in 1919 and also first published 'Ulysses,' which had been rejected by many other publishers.
Having delved into Hemingway's life somewhat in various places such as Key West and Kansas City, I would have preferred less general information on other topics and a more exclusive focus on Hemingway and his life in Paris with his first wife, Hadley, but aside from that, the walk was highly enjoyable and informative and gave context to the Parisian life of the American writer.
For further information, see http://www.paris-walks.com
Columbia Hillen
Columbia Hillen
Columbia Hillen
Columbia Hillen
Columbia Hillen
Columbia Hillen
Columbia Hillen
Columbia Hillen
Columbia Hillen