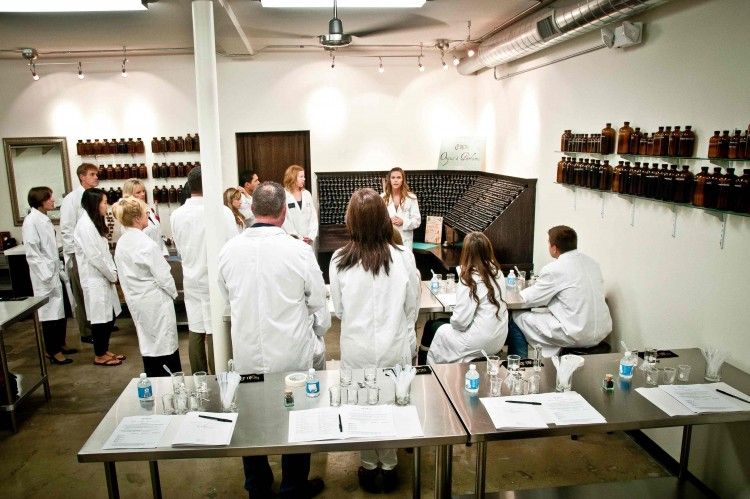 Tijon
Smelling good is a big business. According to the Global Industry Analysts, Inc. (GIA), the global fragrances and perfumes market will reach $33 billion by the year 2015. Fragrances and perfumes have becomes staples, rather than frivolous non-essentials of the consumer's need to express individuality and personal style. But rather than spritzing, sniffing, and sampling scores of bottled options in a booming industry, what if it were possible to create one's very own fragrance?
The founders of Tijon, a luxury parfumerie and boutique, asked the same question. The answer is perfume workshops where guests can take 1 or 2 hour courses to create fragrances from over 300 natural scents. The first location, nestled alongside palm trees in St. Martin, was opened in 2007. A second boutique soon followed in La Jolla, San Diego's "jewel" town noted for its stunning cliffs and beaches. Now open, Tijon La Jolla treats guests to luxurious "lab coat" workshops, complete with a champagne toast and elegantly bottled perfume.
"Groups of girlfriends, bridal parties, corporate teams, and even men love our three or one hour workshops," added Rachelle Crumrine, President of Tijon USA. "Everyone leaves with his or her own bottle of perfume or cologne, along with a Tijon gift bag and the knowledge of how intricate and diverse layers of scents are."
I'm feeling like my nose is now in the know with Tijon. Stay tuned for a Valentine's Day workshop, sure to be ideal for couples or singles seeking a one-of-a-kind alluring scent.
Tijon
Tijon