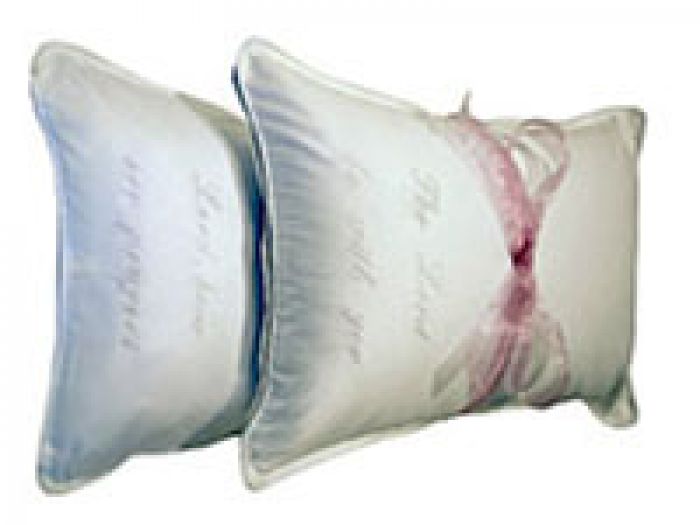 If you are losing sleep over the state of the U.S. economy and other personal financial concerns, you are not alone. According to the National Sleep Foundation (NSF), one-third of Americans are losing sleep over the same issuess. Luckily, Pillow Bar has found a solution.
The perfect mix of luxury and necessity, Pillow Bar pillows are designed in collaboration with both a neurosurgeon and chiropractor. These pillows move well beyond the standard choices of soft, medium or hard. Whether you sleep best on your back, side or stomach, there is a perfect pillow match for you.
The Pillow Bar offers six sizes of sleep pillows: standard; queen; king; European square; boudoir/travel pillow and the side sleeper - designed by famed sports chiropractor Mary Collings, MD.

Sleeping well is important for total health and well-being. The Assistant Surgeon General says, "Sleep is as vital as eating right and exercising to our health." A good night's sleep can reduce stress, promote weight loss and improve one's overall attitude."

The Pillow Bar also offers monogrammed pillows. These special luxury pillows are available with a 300-thread-count, they are double stitched 100% cotton sateen, filled with pristine sterilized and double-fluffed, 650-fill, white Hungarian goose down...complete with a lavender sachet.

To ensure that every family member sleeps well, The Pillow Bar also offers a selection of "Lucky Dog" beds, designed with the man's best friend in mind.

Lucky Dog beds are as individual as dogs themselves and are available in a variety of styles, including: the Lucky Ranch Dog (made of tooled leather-like chocolate vinyl, for the dog that imagines riding the range), the Lucky Designer Dog (made of durable, washable and waterproof Sunbrella, for the dog who appreciates the style of fine Italian fabric), and the Lucky Country Club Dog (made of club stripe or herringbone Sunbrella, for the dog who loves to chase the tennis). The Pillow Bar will donate 20% of each Lucky Dog purchase to a geographically corresponding local humane society.

For a good night's sleep, you can find Pillow Bar at select retailers in Dallas, TX, Fort Worth, TX, Austin, TX and Highland Park, IL as well as online at ThePillowBar.com.