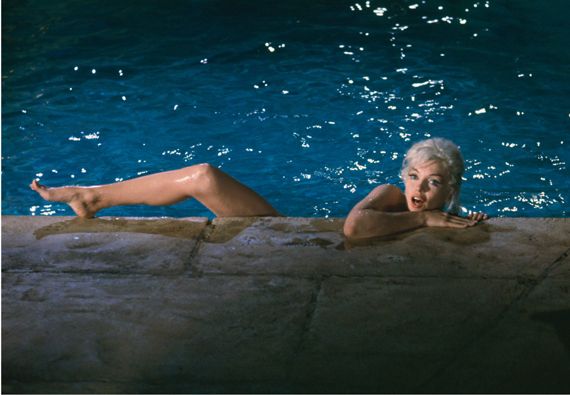 Growing up in Orange County, California, summertime meant a drop-off at the plunge when a trip to the beach wasnít an option. Much later while living in landlocked Madrid, Spainís high desert capital city, an obsession with water became inevitable.
The standard summer vacation meant a trip to the Andalucian coast or better yet to Ibiza, but those of us who stayed behind often sought relief from the high temperatures in a shimmering pool of cool water. So, it seems only natural that the exhibition, "Backyard Oasis: The Swimming Pool in Southern California Photography, 1945-1982," open in the desert community of Palm Springs.
The swimming pools of my youth or my neighbors were never as glamorous as the subjects in this retrospective snapshot of twentieth century pool life. Now we have the chance to take a peek into the "Backyard Oasis" of such silver screen icons as Marilyn Monroe, Richard Gere, Rock Hudson, Esther Williams, Alan Ladd, Liberace, and Olivia de Havilland. Works by David Hockney and Julius Shulman are among the highlights.
As part of the Getty Foundation's Pacific Standard Time: Art in L.A., 1945-1980 regional initiative, it is one of a series of 65 area exhibitions celebrating art in Southern California. From January 21 to May 27, 2012, "Backyard Oasis" examines swimming pools in photographs from 1945 to 1982 as visual analogues of the ideals and expectations associated with Southern California.
These images of individual water-based environs in the arid landscape are an integral part of the region's identity. This retrospective snapshot of twentieth century pool life will offer visitors an insight into its glamorous past and the swimming pool's place within the Southern California conscience.
Pacific Standard Time is a joint initiative of the Getty Foundation and the Getty Research Institute that aims to document the history of art in Southern California in the post World War II decades, and to bring it to a wider audience. The project is an unprecedented collaboration of more 60 cultural institutions across Southern California that are presenting thematically linked exhibitions and programs, all designed to celebrate the regionís vibrant post WWII art scene. Pacific Standard Time exhibitions and events will open in October 2011 and continue through mid-late 2012.
Image credits:
Lawrence Schiller,
Marilyn Monroe, 1962/printed 2011,
modern color silver halide chromogenic print from original negative, Courtesy of Judith and Lawrence Schiller; Lawrence Schiller © Polaris Communications, Inc.;
David Hockney, John St. Clair Swimming
(from Twenty Photographic Pictures), 1972, chromogenic print, Sonnabend Collection, New York © David Hockney; photo credit Richard Schmidt;
Herb Ritts, Richard Gere Ė Poolside, 1982
, C-print, Courtesy of the Herb Ritts Foundation, Los Angeles © Herb Ritts Foundation;†
Leland Y. Lee, Silvertop Ė Hollywood Dawn, 1972,
modern print from original Ektachrome transparency, Courtesy of the artist and Michael H. Lord Gallery © Leland Y. Lee;
Bill Anderson, Rock Hudson, 1954/
printed 2001 modern print from original negative, Collection Palm Springs Art Museum, gift of Dorothy Anderson © Palm Springs Art Museum
†
Richard Gere-Poolside, 1982
Bill Rock Hudson, 1954
Silvertop - Hollywood Dawn, 1972
John St. Claire Swimming, 1972