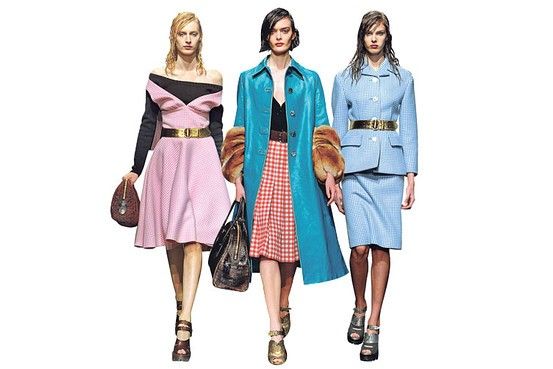 Image from firstVIEW
I have no hope for the 2013-14 men's fashion year. Too many affronts, too little taste... but the womens 2013-14 fashion year looks like a smörg?sbord of awesome styles if Prada's 2013 presentation was anything to go by. I'm almost at a loss for words describing the sheer genius of the couture giant and can barely contain my excitement for the coming year.
LITTLE IS EVER as it seems in a Prada show. That was certainly true for the label's fall 2013 presentation. Dramatically suggestive silhouettes were projected on the walls: birds alighting on a window sill, a lone cat, a woman in a doorway. On the catwalk, models had dripping-wet hair that suggested a sudden change of plans. It all lent the event an air of film noir-ish unease.
However, it was the many coats and dresses in gingham-checked wool that best expressed designer Miuccia Prada's penchant for tradition-twisting. (Read More)