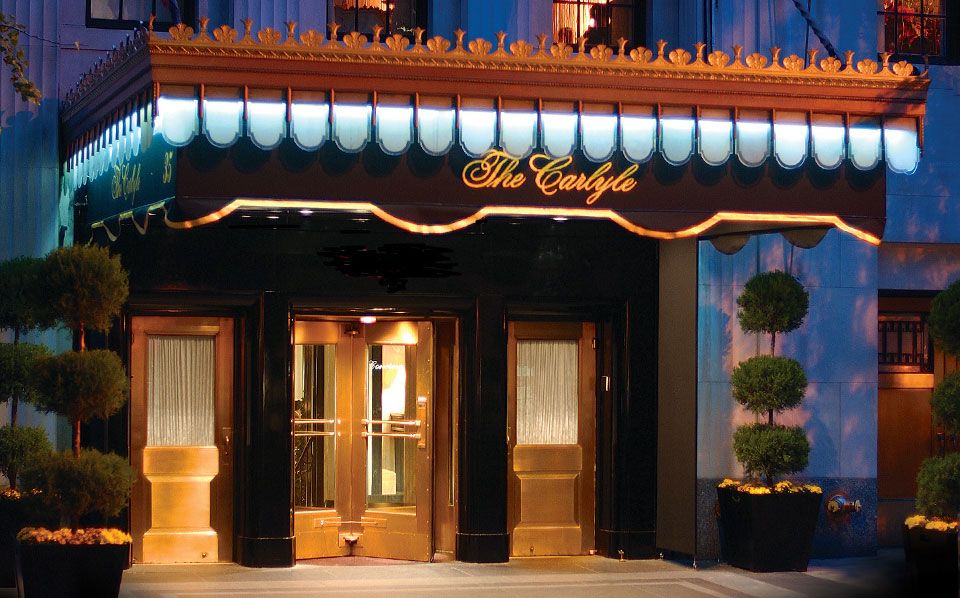 Photos Courtesy of The Carlyle, A Rosewood Hotel

Not every hotel can brag it's hosted every President since Truman. In fact, I'm not sure if any can make such a claim except The Carlyle, a Rosewood Hotel. Located quietly along Central Park in Manhattan's Upper East Side, The Carlyle has remained a beloved icon of the Big Apple since opening in 1930. From the Princess of Wales to the Queen of Sweden, the property has become a home-away-from-home for presidents and patricians, and emanates elegance as timeless as a crown. On a recent jaunt to New York City, I discovered the unwavering allure of the hotel firsthand (with no crown required).

There are a plethora of nooks in The Carlyle that I came to love during my stay. First, The Gallery, a rich two-level living room with blue and gold flourishes, leads patrons to The Carlyle Restaurant. The Gallery features Turkish hand-painted wallpaper and dark red leather booths, a design envisioned by Italian interior designer and two-time Academy Award winner, Renzo Mongiardino. It's a superb spot to slip away from the city's bustle.

On the third level is the stately Sense Spa. Oddly vibrant in its striking black, grey, and white color scheme, the 4,000-square-foot spa is worth a visit, if only for its aesthetics. I particularly loved the glimmering grey mosaic archways, thick grey carpeting, and the stark white marble in the women's' locker area. While elevators are not usually considered a spot to linger in, The Carlyle's are manned by gracious staff that control the 1930's era lifts. The lovely operators always know the up-to-the-minute weather conditions and best happenings within Central Park.

I read a lot as a child, and reading still remains one of my favorite pastimes. One of my go-to series as a little girl was Madeline, the charming tales of a little redhead girl in Paris written by Austrian artist and author, Ludwig Bemelmans. Nearly all of the stories started with, "In an old house in Paris that was covered in vines, lived twelve little girls in two straight lines," and included simple parables about daily life. I was elated to find that The Carlyle's cozy Bemelmans Bar was named after my beloved childhood storyteller! Bemelman frequented The Carlyle during the '30s and '40s where he often sat enjoying a drink and sketching Madeline and her Parisian tales. In 1947, The Carlyle commissioned Bemelman to paint massive murals illustrating Central Park during its four seasons.

Today, Bemelman's four murals are his only commissioned works publicly displayed in all of New York. Restored in 2002, Bemelman Bar remains divinely dapper, featuring live music nightly, a stunning black granite bar, a 24-karat gold leaf-covered ceiling and handsome nickel-framed tabletops. Moreover, the lore of Madeline lives on. A Madeline Tea is hosted in the bar every Saturday in November and December, complete with Madeline sing-a-longs for the musically-inclined.

Until then, guests can savor the legend of Bemelmans with the two "Celebrate 75 With Bemelmans" packages. The special overnight experiences include cupcakes, breakfast and tickets for the New York Historical Society's upcoming exhibition, Madeline in New: The Art of Ludwig Bemelmans. Guests can admire 100 original works by Bemelman that will be on display at the nearby museum in honor of the 75th anniversary of Madeline's publication. As timeless as the Big Apple, The Carlyle remains the hotel darling of New York City's elite.