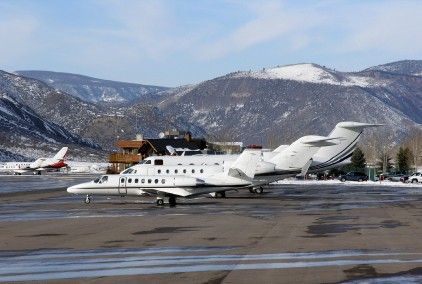 As leaders in the jet charter industry, we work to give our clients all of the information that they need to make smart decisions concerning their private air charter travel. In this series, we put the spotlight on the top airports for jet charter in the United States. Our featured airport here is the Aspen Pitkin County Airport.
Aspen-Pitkin County Airport (ASE), also known as Sardy Field, is a public airport situated about 3 miles northwest of the central business district of Aspen, Colorado, the world famous town and ski resort nestled in the heart of the Rocky Mountains.
Aspen Private Jet – Pitkin County Sardy Field Jet Charter and Air Charter Service
Ski and snow board enthusiasts the world over have discovered that the incomparable slopes, top-notch facilities, and the wide variety of entertainment options found in the picturesque mountain community of Aspen can't be beat. In addition to winter sports, Aspen also offers exciting year-round outdoor activities and attractions, world-class shopping and dining, and a wide range of luxury or more rustic resort and lodge accommodations. Stratos Jet Charters offers superior jet charter service to Aspen Pitkin County Airport, and with access to over 7,000 aircraft worldwide there is no flight that is too small or too large to handle, and we can always provide the best available pricing for your trip.
The airport has several unique operating limitations which your air charter provider must be well aware of. Due to a non-standard separation between the runway and taxiway, Aspen Pitkin has a 95 ft aircraft wingspan limitation. Aircraft weight is also restricted to 100,000 pounds maximum certificated gross landing weight or less. In addition the airport has an operating curfew, with no flights permitted between 2300 local and 0700 local.
For the 2010 calendar year the airport had 37,603 aircraft operations, for an average of 103 per day. 53% of these flights were classified as general aviation, 21% air taxi, 26% scheduled commercial, and 0.01% military. This level of traffic and Aspen Pitkin's close proximity to many downhill slopes make the airport the perfect one for those flying jet charter to Aspen for an invigorating winter sports getaway.
Airport improvements include a recent $15.5 million runway extension of 1,000 ft. to the south end of the primary runway, which was also completely rehabilitated with new grooved asphalt in 2007. The terminal at Aspen–Pitkin County has had several extensive renovations since opening in 1976, with convenient guest services, restaurants and gift shop concessions, and a range of rental car operations. Of course, the concierge service at Stratos Jet Charters is also happy to arrange luxury ground transportation as well if you wish.
Stratos Jets has access to all jet types for your trip to Aspen Pitkin County Airport. Choose from any Citation, Hawker, Lear, Falcon, Challenger, Gulfstream, Global Express, Boeing Business Jet or even Jumbo Jets. Stratos Jet Charters can arrange all your jet charter flights both domestic and international with as little as hours' notice. Call our private jet charter experts to book your next jet charter flight to Aspen Pitkin County Sardy Field anytime, 24 hours a day, 7 days a week.
Rent a Private Jet Aspen Pitkin County Sardy Field
Our on demand jet charter service in Aspen Pitkin County Sardy Field allows you to depart when you want and on the jet that you want. Arrange your flights from Aspen Pitkin County Sardy Field based on your own schedule. Avoid connecting stops and unnecessary layovers. Please call one of our jet charter experts today at 888 478-7286 to quote your next jet charter trip to Aspen or anywhere else on the globe.