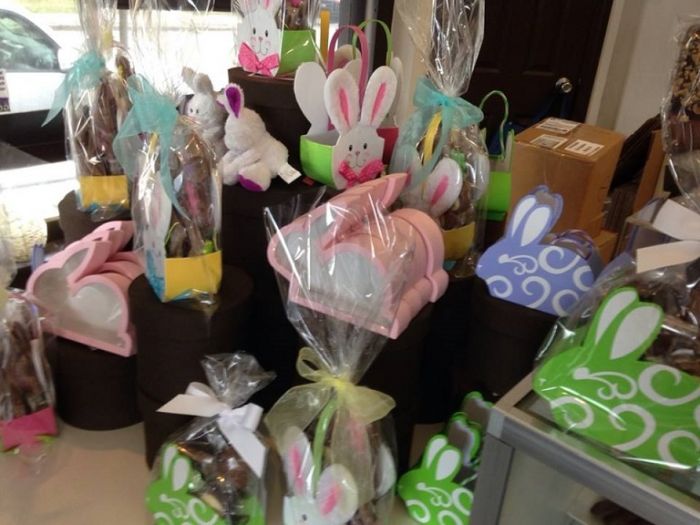 Purefections
A sweet aroma of Belgian chocolate nearly knocks you to your knees when you first open the door as if to pay homage to the perfection that is Purefections, a boutique chocolatier located in Quincy.
Owners/sisters Christina Bartkus and Lisa Trifone opened the chocolate shop nearly eight years ago after Christina wanted a chocolate fountain at her wedding. "We ended up buying one for my wedding and then rented it for two years after while taking chocolate classes," she said. "When this space became available, we decided to open Purefections."
The youngest of eight children growing up in an Italian family, Bartkus already had some cooking experience but had worked professionally as a paralegal before opening the chocolatier. Today, their chocolates can now be found in Winston Flowers gourmet gift baskets as well as high end luxury hotel amenity baskets.
One of their famous creations is the P2C2 made withchocolate, caramel, peanut and potato chips. One of our favorites is the lager tartarugas, their unique take on the traditional chocolaty turtle made Belgian chocolate, creamy caramel, roasted pecans mixed with sea salt, cinnamon and Sam Adams lager.
Be sure to check out the enormous chocolate frosted brownie pop double dipped in rich Belgian chocolate and topped with additional sweet treats like Oreo, Buttercrunch or white chocolate made by Bartkus and Trifone's mother.
Purefections is located at 102 Franklin Street in Quincy, Mass. For more information, call (617) 328-6248 or visit them online at www.pure-choc.com.
Purefections