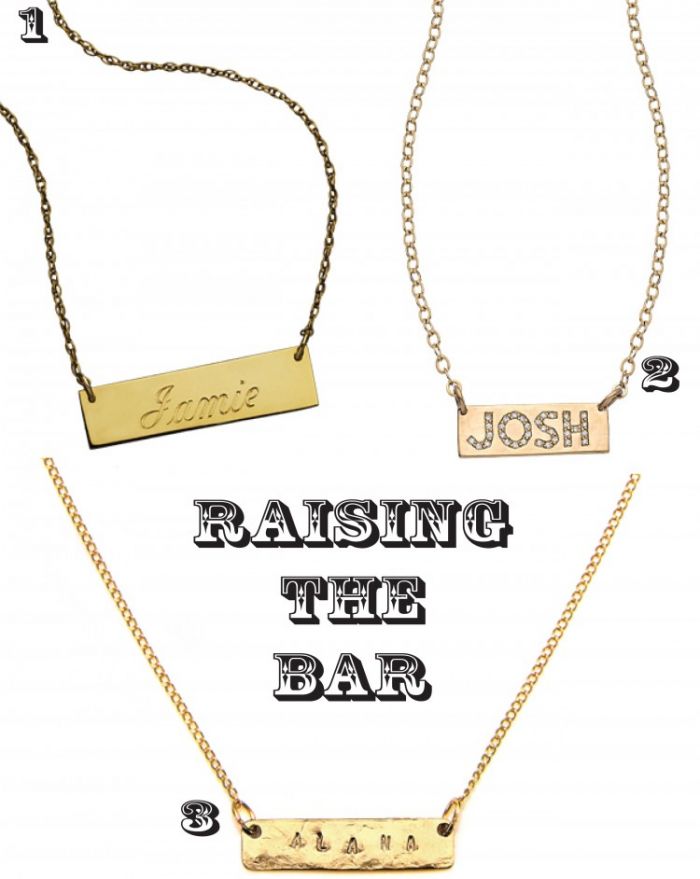 Max & Chloe, PHYLLIS + ROSIE
Jewelry trends come and go, usually quite quickly it seems, yet there will always be one that's here to stay - re-invented time and time again but classic none the less - the nameplate. Over the years so many versions have staked their clame to fame: the diamond-encrusted script necklace, the boldfaced laser-cut version, the "text in the round" on a disc pendant, and most recently, the bar.
This simple, understated piece comes in all shapes and sizes: long, short, thick, thin, cut-out, engraved, embellished...you name it. But the bar necklace, in all its diverse glory, makes one very unique statemement that resonates with girls both edgy and elegant alike, "Say what you want, how you want, just be you and feel free to wear your heart on your neck."
A-Listers around the globe have grabbed on to the trend, customizing their bars with everything from the name of their honey to the date they first signed a record contract, so is the beauty of this nouveau nameplate - it doesn't have to hold your name to be both sentimental and super cool all at once. In true "IT" form, this variation on the everyday personalized piece is popping up all over the place but a few stand out, in case you're in the market...
1) West Avenue, $180, maxandchloe.com
2) Metal Pressions, $1,658, maxandchloe.com
3) PHYLLIS + ROSIE, $150, phyllisrosiejewelry.com