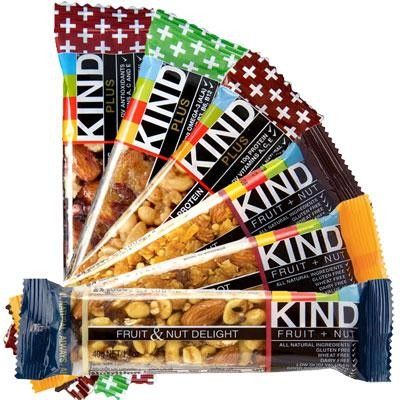 KIND Bars
Soon it will be Halloween, when over 2 billion dollars worth of candy bars will be handed out across America. Non-trick-or-treaters might be looking for another type of bar: a "healthy" bar. The holiday season is around
the corner, events will be many, and sustaining (and appropriately feeding) my
appetite in the craze to come is a priority. Here's a short list of my favorite bars to keep my weight in check this holiday season:
You Bars: I'm a picky eater. I'm one who loves a salad bar, because then I'm able to select every ounce of lettuce leaf, cashew, and cranberry. Founder of You Bars, Anthony Flynn, realized there were picky eaters aplenty looking for a more custom health bar. You Bars lets customers do just this: design health bars precisely per their preferences. The You Bars website is simple to navigate and guides customers in a step-by-step process of bar building, starting with the base (ranging from soynut to organic almond butter) to infusions of fiber, omega-3s, and more. A handy Nutrition Facts tracks your bar's calories, allergens, and sugar and fiber breakdowns. I've loved finding my box of "Katherine's Krafty Krunch" (you can name your bars) sitting in my mail just a week after my submitted order. Celebrities such as Fergie and Randy Jackson have been spotted munching on their own You Bars, although currently you can just order a variety created by Tim Ferriss, the "4 Hour Work Week" best-selling author.
FITzee Bars: Fans of FITzee foods, myself included, have a new reason to chomp on delicious, balanced food from this Southern California based company. FITzee bars, available in Chewy Chocolate Chip, Coconut Almond Chip, and Apples n Oates, are now available online in select Whole Foods and Albertsons in Southern California. The Apples n Oates tastes like a scrumptious "healthy" version of an apple pie rolled in oats-a perfect fall fix for my apple and pumpkin dessert cravings. Far from a dessert, however, FITzee Bars are made with organic, all-natural ingredients, are gluten-free, and are packed with 2 grams of fiber each.
True to their name, FITzee Foods actually promotes fitness, offering6-week challenges to help jumpstart a commitment to both diet and healthy living. Weekly free zumba and bootcamp classes are also available, as well as a full-time nutritionist able to give customers personalized analysis. With FITzee Foods, there's no excuse NOT to be fit this holiday season.
KIND Snacks: Being kind to your body AND humanity is no small endeavor, but its one KIND Snacks has whole-heartedly committed to. Nearly a decade after Daniel Lubetzky founded KIND Snacks, the "not-only-for-profit" company makes whole nut and fruit, protein, gluten-free, and fiber snacks with ingredient lists that I can actually pronounce. The Nut Delight and Almond and Apricot are two of my favorites thus far. In addition to being Kosher certified and hand-made, KIND bars were acclaimed in a Yale study a few years ago which showed that snacking on two KIND bars a day helps to suppress appetite and reduce overeating. I don't need an Ivy League degree to understand why I should be stashing a few of these KIND snacks in my car and office desk.
You Bar