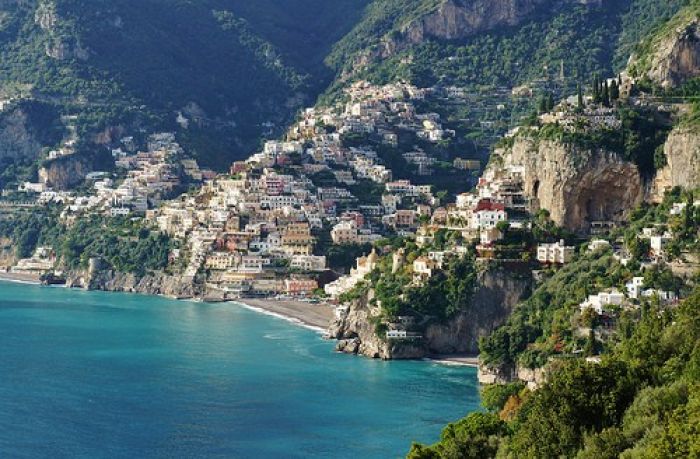 Image via Flickr by clara & ja
Everyone needs a break now and then, but to really get the most out of your relaxing retreat, plan a luxury vacation to one of these serene areas.
1. Amalfi Coast, Italy
If the range of tranquil activities along the Amalfi Coast in Italy doesn't ease your stress, then the scenery will. With exquisite cliffs that meet turquoise waters, this picturesque area is popular for its beauty. Here you can indulge in these views and relaxing activities with the following ideas:
•Visit the Villa Cimbrone Gardens in Ravello for a relaxing experience and self-reflection time.
•Check out the views along a leisurely hike at the Footpath of God area near Positano.
•Unwind to the music at the Amalfi Musical Opera.
•Discover serenity at one of the area's cathedrals, such as the Duomo di Salerno cathedral.
With countless more hiking trails, historical sites, and attractions, the Amalfi Coast is the perfect area to travel to for peace and relaxation.
2. Naples, FL
Settle down in the charming area of Naples for a relaxing getaway. Begin your journey at a spa, such as the Euro Spa of Naples, which features skin care services, massages, scrubs, wraps, and more. Continue relaxing on the beach, and sunbathe, swim, or grab a snack along the 10 miles of Naples Beach before watching the sunset. Before you leave Naples, indulge in a delicious meal at Cloyde's Steak and Lobster House.
The area also offers luxury lodging options, including resorts and gated communities. For example, with many homes for sale in the Espalanade Naples community, you could buy your own vacation home; otherwise, simply stick to renting a holiday home, and enjoy the range of amenities here, including multiple bedrooms, an 18-hole golf course, a tennis court, a pool, and more.
3. The Fiji Islands
Experience the views of a lifetime along the Navua River, and head through the Upper Nuava Gorge on a rafting tour for the perfect chance to forget your troubles and take in a blend of excitement and serenity. Continue relaxing in the Thurston Gardens, which date back to 1880 and feature palms, ginger, lilies, and more. Before you leave this stunning area, check out the Fiji Museum, which sits inside Suva's botanical gardens and houses archeological material and other exhibits. Additional attractions include golf courses, spas, and pristine beaches that allow snorkeling and feature awe-inspiring views.
4. Napa Valley, California
With the countless wineries and vineyards in the Napa Valley area, it's no wonder that this is a serene destination for many people. Begin your journey by touring your choice of wineries and taste testing the area's renowned wines. While Napa Valley is well-known for their wineries, that's not the only thing they offer. You can also pamper yourself at a day spa, enjoy a relaxing hot bath experience, or take on a game of golf at the Eagle Vines Vineyard and Golf Club before dining at their delicious restaurant.
If you're searching for the perfect luxury experience, don't settle for anything less than these suggested vacation spots.
Image via Flickr by Jim Nix /
Image via Flickr by Sarah_Acke
Image via Flickr by bdearth