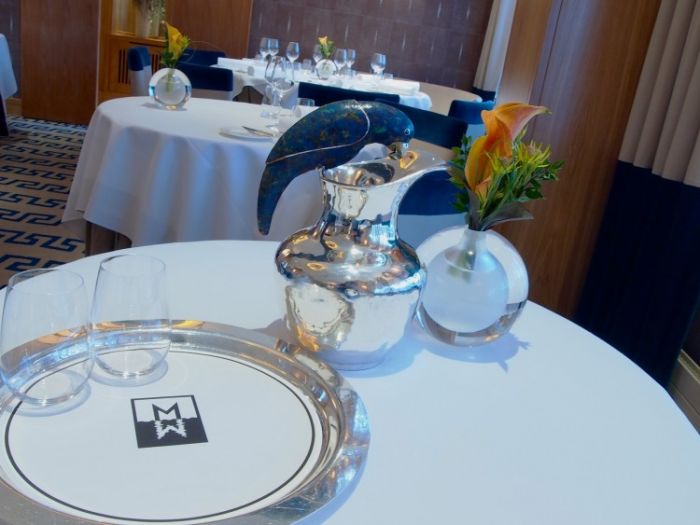 Columbia Hillen
Ducks floating freely, seagulls flitting high above, centuries of nautical history transformed into a quiet waterfront cocoon of cafes, restaurants and chic apartments – Leith certainly provides an intriguing backdrop to a restaurant that earned Edinburgh its first Michelin star more than ten years ago.
Married couple and owners of Restaurant Martin Wishart, Martin and Cecile, have kept their place among the stars ever since, not only maintaining the prestigious award they won in 2001, but winning another for their restaurant on the shores of Loch Lomond in Cameron House hotel.
Located near the mouth of the Firth of Forth, Leith, once a stand-alone village and thriving port, is now a suburb of the Scottish capital. It has undergone radical renovations in recent years and erstwhile warehouses in the snug little area known as the Shore - where the restaurant is located - have been turned into apartments, while its short, gently curving waterside street is home to a dozen cafes, restaurants and pubs. It is reached quite easily, within fifteen minutes, by bus or car from central Edinburgh.
Opened in 1999, Restaurant Martin Wishart is elegant without being ostentatious, simple without being minimalist. Thick beige and marine blue carpets with a Greek key meander motif, discreet wall lamps and a combination of birch wood paneling with ash-gray wallpaper provide a calming ambiance, complementing crisp, white tablecloths, Heritage cutlery and balloon-shaped glass table-flower holders.
It's the food, however, that infuses one's imagination - and one's palate - in this realm of pastel colors and background classic guitar strings.
A native of Edinburgh, Martin Wishart describes his philosophy in this particular restaurant as classic French, using modern techniques, most based on fresh Scottish produce. To put this to the test, we chose the tasting menu and what was expected to be a two-hour leisurely lunch before an afternoon visit to the National Museum of Scotland, became a four-hour, mouth-watering exploration of the world of gourmet cuisine, complete with diverse wines complementing each course.
Restaurant manager, French-born Jean-Christophe Froge, was an exemplary host, answering our questions about the history and development of the area and the restaurant, as well as his own career in the hospitality sector, with the utmost of patience.
Our gourmet journey began with beetroot macaroon with horseradish cream and vinegar macaroon accompanied by scorched wild rice, followed by scallops with chestnut puree and Jerusalem artichoke foam. Straight from the outset, we could not say we had not been warned and already sensed our sojourn here could well be extended - for these were only the amuse bouche.
I'm a firm believer in tasting menus over a la carte, feeling they present a better opportunity to settle back between courses, muse upon the diversity of each and properly appreciate a chef's creative skills in making each different to the preceding one. Our first taster was presse of foie gras with Marcona almond praline, quince puree and Agen prune compote - a rich block of foie gras disguised as a crème brulee, complete with perfect crust to be delightfully cracked open with a spoon to allow the fragrant essences to escape.
Then came ceviche of Gigha halibut, from the Scottish island of the same name, topped by mango and passion fruit and Loch Ryan native oyster, with green apple, sauerkraut and caviar d'Aquitaine, on its black and white bed of ice for my companion. I enjoy the more subtle sea-flavor of native oysters compared to that of their Pacific cousins and this was certainly the case here. Beads of sauerkraut and caviar added extra zest to the experience.
One of the highlights of our six course tasting menu with matching wines at Restaurant Martin Wishart was the Kilbrannan langoustine presented on a moist bed of parsnip and white chocolate with melted smoked butter. Succulent, it simply burst in my mouth with warm, affectionate flavors.
As if on an evolutionary search, we departed from the delights of the sea to explore the many culinary riches of the land – black trompettes, cepes and veal sweetbreads roasted in buckwheat for myself and soft loin of Dornoch lamb capped by a black olive crust and accompanied by pumpkin and crab and curry tortellini for my companion. Tasting both dishes reminded me of my favorite season, autumn, and its cornucopia of vibrant, earthy flavors.
Staff at Martin's were very attentive, whether explaining the origin and complex nose of the wines served, or waiter, Mathieu's, detailed description of the various offerings in the cheese cart – from France, Holland (vintage Gouda, utterly divine!), Corsica, and a local brand, Lanark Blu.
As for dessert, ooh la la! Such finesse! Cantaloupe melon and mango, pink grapefruit, passion fruit curd and verbena on one plate and Highlands Glen-Ample raspberries, Knockraich farm crème fraiche mousse and Hibiscus jelly on the other. Need I say more?
Sipping on a suitably pungent ristretto seemed to mark the end of our delightful, culinary experience. But no, we were wrong. That's when delicate, square pockets of assorted chocolates arrived - salted caramel, raspberry, mint, mango and praline – all aligned on the plate like soldiers on parade, their mission to add the all-important PS to the culinary letter. Be warned: eat all of them greedily – as we did – and you may find a second generous portion placed before you.
It should be noted, as well as being a top restaurateur, Martin also has a cooking school so he may well teach you some of the aforementioned dishes if you happen to join.
For more information, contact the restaurant at http://www.martin-wishart.co.uk
Columbia Hillen
Columbia Hillen
Scallops with chestnut puree and Jerusalem artichoke foam
Columbia Hillen
Loch Ryan native oyster, with green apple, sauerkraut and caviar d?Aquitaine
Columbia Hillen
Ceviche of Gigha halibut
Columbia Hillen
Kilbrannan langoustine
Columbia Hillen
Soft loin of Dornoch lamb
Columbia Hillen
Columbia Hillen
Columbia Hillen
Chocolates