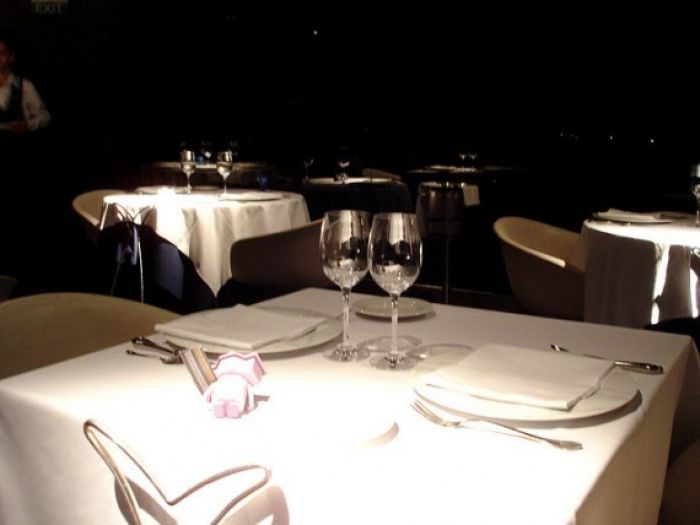 Anna Fuster
Torre de Alta Mar is a tastefully-decorated restaurant in Barcelona that majestically rests atop the Torre Sant Sebastiàn – one of three towers that today transport passengers across the port via cable car . In order to reach the top of this 75m (250 ft) structure (and enter the dining area), one must first go up a private elevator -- all the while experiencing breathtaking views of the city. Oftentimes, establishments that have stunning views as their centerpiece can be found lacking when it comes to the refinement of the dining experience they offer, both in terms of the cuisine and the presentation. Fortunately, Torre de Alta Mar is a rousing success on both counts.
Upon entering the restaurant, you are immediately greeted and escorted to your table (book in advance for the best tables right next to the immense glass windows showcasing the enchanting backdrop). The menu suggests an emphasis on regional fish such as merluza (hake) – a Catalan speciality on this side of the Mediterranean – but can easily accommodate the most discerning meat lovers with inventive dishes such as steak tartare with seasoned potatoes and olive oil "ice cream". If you prefer variety, then try the delectable seven course tasting menu with an optional wine pairing. Do note, however, that although beautifully presented, dishes do tend to be on the small side at this restaurant.
The staff at Torre de Alta Mar remains pleasant and attentive while each course is served and particularly helpful in making wine suggestions to accompany your chosen meal. The first course was a surprisingly tasty combination of foie gras in armagnac served with rigattoni wrapped morsels of lobster and prawn.The main course was lightly seasoned hake with zucchini vegetables and a sampling of the aforementioned meat course. For dessert, we were offered a plate of regional cheeses followed by a delicate medley of yogurt foam, strawberry muesli and coconut ice cream.
Although considered a bit on the pricey side by Barcelona's more casual standards -- prices for mains begin at about 25 Euros, so estimate approximately 200 Euros for a dinner for two including wine – the cuisine, the atmosphere and arguably the best views in town will make your visit to Torre Alta Mar a memorable night out and perhaps even a highlight during your visit to this exciting capital city.
Jessica Benavides Canepa
Inventive First Course
Jessica Benavides Canepa
Beautifully Presented Main Course
Anna Fuster
Breathtaking Views