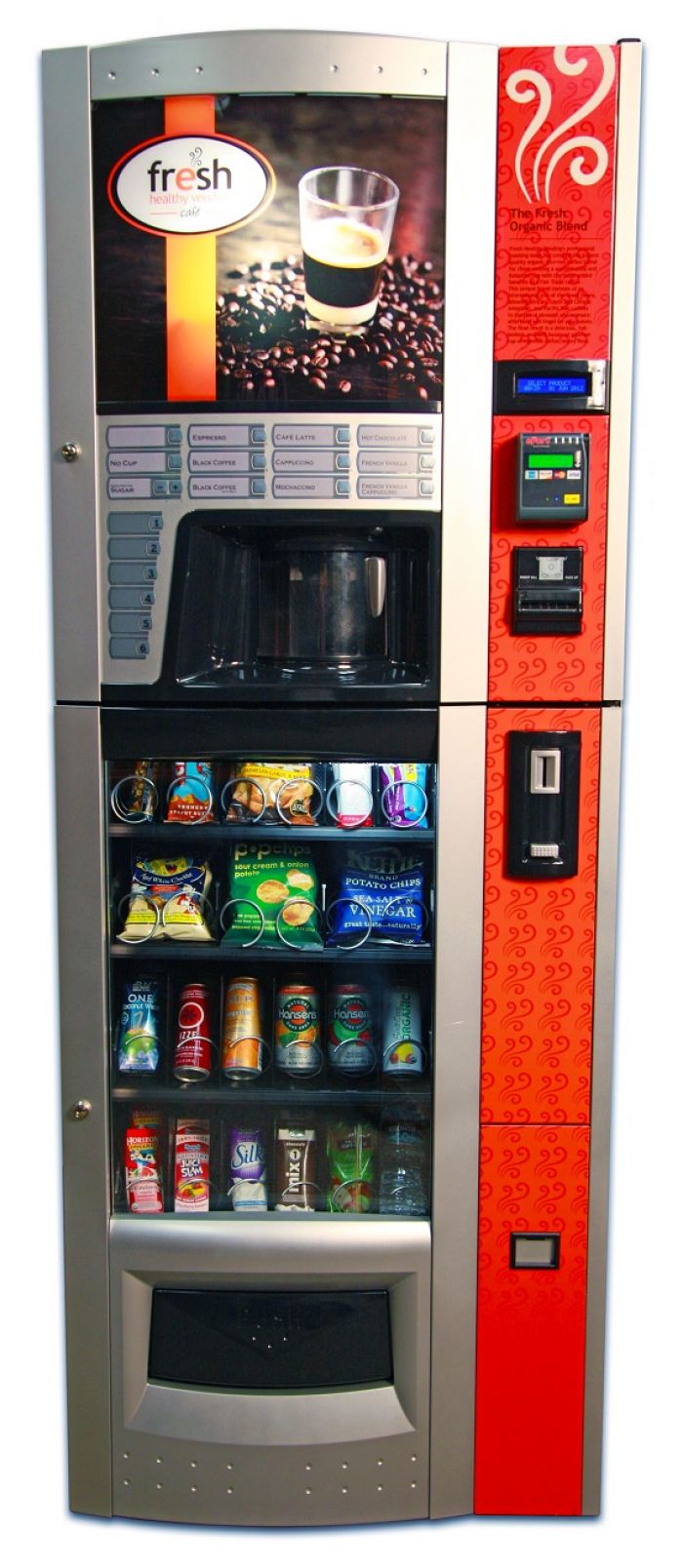 Fresh Healthy Vending
Fresh Healthy Vending recently announced the launch of its new Healthy Vending Café. The innovative vending machines, exclusive only to Fresh Healthy Vending Franchisees, are creating a whole new category in the vending industry, by offering organic specialty coffees and nationally branded healthy snacks and drinks, all in the same machine.
"Our research showed that consumer demand for healthier espresso coffee, combined with healthy snack and beverage options in a single vending footprint would be a "slam dunk," says Dan Negroni, CEO of Fresh Healthy Vending. "Our Fresh Healthy Vending Café's are like having a mini-Starbucks store in a retailer or office building. Now when people go to their office or place of work they no longer have to stop before work or leave at break time as the Fresh Healthy Vending Café is there to serve their needs."
Fresh Healthy Vending Café are also being placed inside traditional grocery store chains, health-food stores, big box retailers, car dealers, tire stores, oil change stores, and a variety of other places where people shop on a daily basis.
Fresh Healthy Vending Café's is expected to have the same impact on specialty coffee and healthy snacking consumption that Redbox did on the video retail chains, such as Blockbuster. Consumers are increasingly seeking a simple and convenient way to access the products they want where they work and shop, and automated retail is certainly the future of retail as space and labor costs continue to rise.
The Fresh Healthy Vending Café provides a new approach to engaging retailers —designed to increase employee productivity and decrease absenteeism in office buildings, as well as to keep customers shopping in retail environments.
Fresh Healthy Vending's business model is to continue to promote innovative technologies and services that serve the needs of consumers, as well as compliment retail channels, as they are continuously searching for solutions to engage customers and improve the overall shopping experience.
For more information on having a Fresh Healthy Café placed in your location at no cost or on becoming a Fresh Healthy Vending franchisee in your area, please visit www.freshvending.com or call (858) 210-4200.