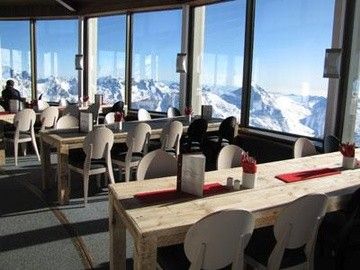 Swiss Tourism
What do you get when you build the world's highest altitude glass-walled rotating restaurant overlooking a 360 degree panorama of the Swiss Alps? What if deep below this restaurant carved into glacial ice, you can explore lit passageways connecting large grottos filled with ornate ice carvings, an ice altar for celebrating weddings, and another room completely outfitted as a playground with slides and ladders for the children? My first words to describe these wonders high above Sass Fee atop the Allalinhorn were "Only in Switzerland!"
Restaurant Three Sixty

Your adventure begins by taking the world's highest subterranean Alpine train, the Metro Alpin from Felskinn Station above Saas-Fee up 3,456 meters above sea level to the Restaurant Three Sixty. You make a stark transition climbing the stairs from ordinary ski-area-esque concrete floors and heavy non-descript glass doors up into a continually rotating circular restaurant flooded by sunlight through wall to ceiling windows. Sit down at light alder wood tables and your eyes will immediately fixate on breathtaking views of the surrounding Alps. Be sure to get a window seat but just don't place your gloves and hat on the window sill. This part of the restaurant is not moving so you will gradually move away from your gear. Look closely down at the window ledge and you'll notice a detailed diagram identifying every mountain you are currently viewing. Peaks of the Saaser Mischabel mountain chain including the Eiger and Mönch as well as further afield Jungfrau to name a few, slowly pass by creating an ever changing panorama.
Not only does the dining area…rustic, simple, and clean showcase the spectacular alpine setting outside, the food reflects the region as well featuring a Valaisian Platter (air-dried meat, ham, bacon, Saas Sausage and finely sliced cheese), Älplermaccaroni (Alpine maccaroni with cheese, etc.), and various styles of Rösti (a type of hash brown topped with ingredients ranging from egg, fresh vegetables, to local cuts of black nose lamb). A custom made latte with house made cookies provides the perfect finish before embarking on further adventures.
Eispavillon Ice Grotto
Deep below the Restaurant Three Sixty, 120 steps carved through glacial ice thousands of years old lead down a 70 meter long tunnel 10 meters below the surface to large grottos. Deep within the glacier, a grotto named Eispavillon was carved over 20 years ago by glaciologist Benedikt Schnyder making it the world's largest artificial ice cave. Passageways showcase ice sculptures lit by magical blue light produced by sunlight filtering through layers of ice from above. Most interesting, interspersed among the passageways, various exhibits chronicle the heritage of fearless mountain guides and rescue teams, glacial exploration, and the future of these fragile natural treasures in light of the climatic history of our planet along with current warming trends. The most notable display is a natural crevasse called Bergschrund which demonstrates how a mountaineer is rescued after an accident. In the huge circular shaped Glaciarium used for meditation and weddings, the head of a pharaoh, penguins, and Saint Berhard of Aosta are sculpted from ice.
Coverage made possible by participating in a sponsored trip.
Swiss Tourism
World
Swiss Tourism
Eispavillon Ice Grotto