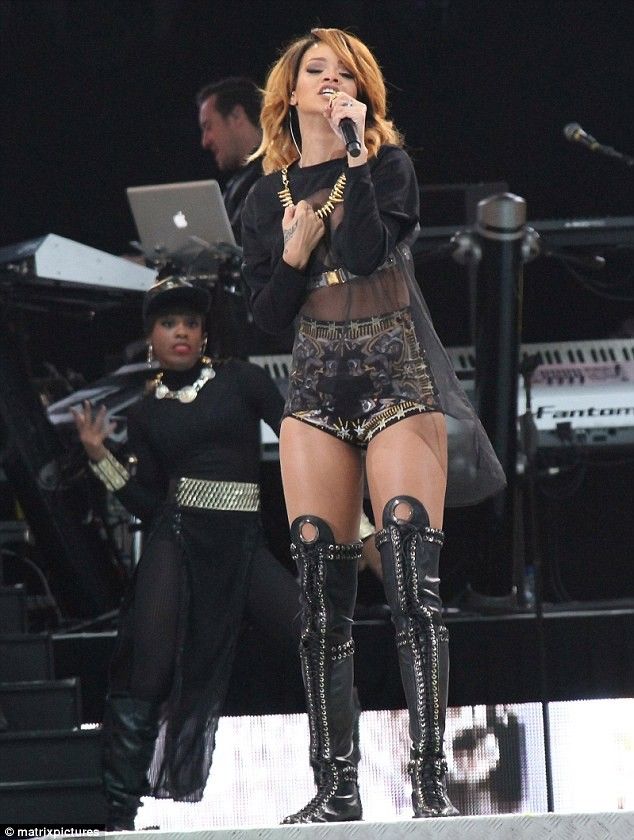 Image courtesy Matrix Pictures
Lets face it, I'm a sucker for Rihanna. The girl's got style and panache in an era where many of our top idols refuse to break the curve. I guess it's only necessary that she sometimes miss the mark as she did with her Dublin stop on her World Diamonds Tour. Now don't get me wrong, the ensemble works... but the shoes – brought into focus by the almost invisible shorts – ruin it. Come on girl, you can do better!
She is known for her love of provocative outfits as well as her commanding on-stage presence.
And true to her typical style, Rihanna drew attention to her enviable figure in pair of tiny shorts while performing in Dublin on her World Diamonds Tour on Friday.
The Barbadian star went for a Wonder Woman inspired look in the shorts, which were embroidered in a star spangled design.
Her long-sleeved black top featured sheer material over her bust, midriff and thighs.
Its flowing material exposed the singer's black bra top, which she accessorised with a white studded belt fastened under the bust. (Read More)