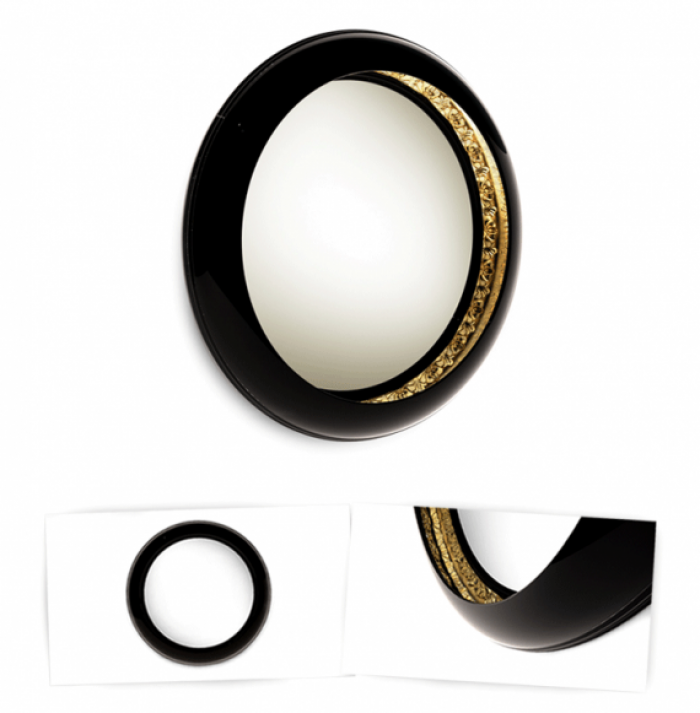 Like a jewel that reflects eternal beauty when it is contemplated,
Ring is the mirror of the soul, which aspires to the sublime.
Exploring the main function of a mirror, the richness of Ring lies within its reflection.
The newest piece of Coolors Collection mirrors the passion 
and mystery of a hidden lineage, only to be shown when sight meets its soul.
Finished in golden leaf, Ring evoques an antique unreachable treasure 
that could only be found on the most remote place on Earth.
Ring contains a mirror frame in black lacquered high gloss,
with a minimalist line on the outside and another carved handmade on the inside.
A precious piece of art with its interior made of refined carved wood as exquisite as its owner.
Ideal for an unique and exclusive home, 
Ring will reflect elegance once it's on your living room or your bedroom.
Can you imagine it at your entrance hall above a luxurious console?
Ring provides an intense and elegant look to your room, 
assuming a new personality, full of class and sophistication.
With its rare opulence, Ring will took the place of your home's best jewel.
PASSION IS EVERYTHING!
http://www.bocadolobo.com/coolors/ring.html
_____________
Check out Hilary Duff engagement ring.