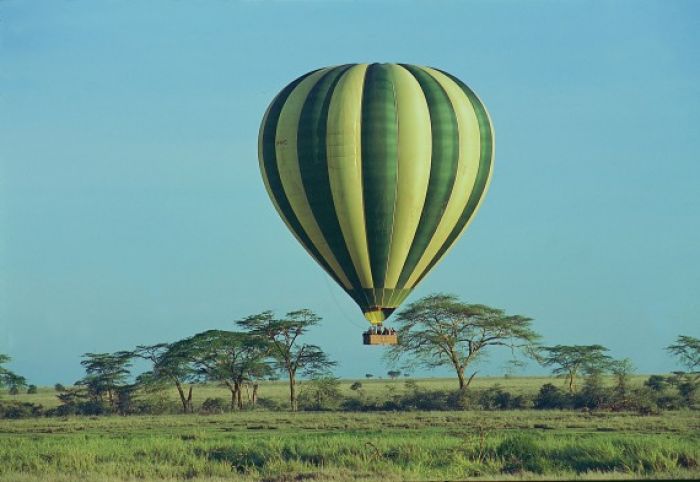 Are you thinking of taking a romantic break with your partner? Paris and the Caribbean have plenty to offer a loved-up couple, but if you're looking for an extra special trip you may want to think about visiting the spectacular landscapes of Africa for a secluded escape with a difference.
Tanzania, located on the east coast of this incredible continent, is a paradise for couples, complete with wild and unspoiled surroundings and an opportunity to see some of the most exciting wildlife on the globe. Whether you're hunting for the 'big five' and world class sunsets on a Tanzania safari or searching the crystal clear seas for dolphins on the coast, Tanzania is bound to provide a magical and unforgettable experience for a romantic trip to remember.
What to do
Flying high with a Serengeti sunrise balloon ride
Picture yourselves floating high above the Serengeti of beautiful Tanzania, with the incredible game, wildlife and scenery stretching as far as your eyes can see. One of the most romantic and unique ways to view Africa is from a sunrise balloon safari, with some of the world's most exceptional creatures and stunning landscapes spanning in all directions. The balloon lifts off just before the sun comes up, descending over the plains for a close up view of the wildlife, including possible glimpses of the 'big five', and rising high to take in the incredible panoramas.
As if seeing the sun rise from the sky isn't enough, you can enjoy a delicious champagne breakfast in the bush upon your return to the ground, to toast each other and the incredible experiences you're sharing.
Sundowner at the Ngorongoro crater
The incredible Ngorongoro Crater is an impressive 16km-wide volcanic crater with thickly forested walls climbing around the rim. Grazing in its centre is a wide range of varied wildlife including zebras, wildebeest, buffalo and lions. Soak up the unbridled beauty of a Tanzanian sunset on the edge of this breathtaking natural wonder and enjoy sipping drinks together seated around the glow of a romantic of a campfire. Positioned high above this impressive wonder on the crater's rim, this magical sundowner truly is a unique and unforgettable romantic treat.
Relax on the Tanzanian coast
Couples don't always want the same thing on holiday – perhaps she wants excitement and he prefers to relax by the sea. An important part of a romantic holiday is finding the ideal blend of adventure and relaxation, and Tanzania offers an ideal opportunity to enjoy both of these together in one exciting trip of a life time. The coastlines in the area offer unspoilt beaches, healthy colourful reefs and ancient ports, as well as the region's ever-present exotic wildlife. Enjoy dipping in the clear ocean of Saadani, Tanzania's newest national park to spot dolphins, or exploring the river to spy fish eagle, king fishers and weaver birds. Or perhaps just lie back and enjoy the warm weather and each other's company in one of the many peaceful lodges on the quiet, serene bays.
Where to stay
Tanzania offer a wealth of beautiful and secluded options for accommodation, so you can spend your evenings relaxing and spending time together after exciting days of exploring the area. From lofty tree houses to tranquil beachside lodges, you'll find something to suit your idea of a romantic getaway.
The Retreat in Selous boasts its own open tree house called the Love nest, which is ideal for couples looking for an enchanting place to stay. The Lovenest offers a huge bed under a silk mosquito net, a swing, chill out area and outdoor bathroom under the roof of a huge evergreen tree. Couples get a spectacular view onto the great Ruaha River and can look down onto a busy hippo path below them.
The three camps of Ngorongoro Crater Lodge are perched on the south-western crater rim of this stunning part of the country. Thirty lavishly equipped suites have log fires, Persian artefacts, four-poster beds, and a personal butler who will draw you a bubble bath with rose petals and champagne!
Or, if you'd rather stay closer to the coast, Ras Kutani is a tranquil, luxurious beach lodge, with nine charming cottages. Each offers either views of the ocean or the lagoon from private verandas, as well as Swahili daybeds and hammocks for the ultimate in laid back romance.
Whatever your idea of a romantic escape, Tanzania will have something for you. For a truly romantic experience, Rainbow Tours can help you create your own bespoke safari and beach combination holiday. See www.rainbowtours.co.uk for more information and examples of some of their romantic itineraries.