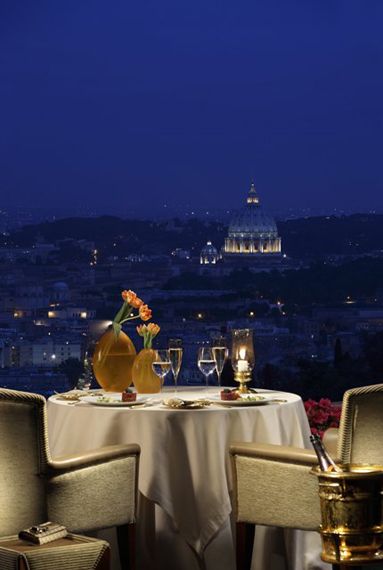 Rome Cavalieri
Rome — even the mention of the city conjures rich images of smooth, white marble sculptures, ornate columns, and ancient history imbued with music, culture, class, and all the finer things. Rome Cavalieri, Waldorf Astoria Hotels & Resorts is certainly no exception to those lofty visions of ultimate luxury, offering some of the finest accommodations, exclusive partnerships, gourmet dining, and out-of-this-world services.

Exclusive to the hotel are several services and elite offerings. One such relationship is with Italy's Finest (IF) Lifestyle Management providing 12 exclusive tours of Rome. With insider's access to all the city has to offer, guests of Rome Cavalieri have the opportunity to marvel at Rome's art, architecture, culture, neighborhoods and history. The tours are led by IF's founder Filippo Cosmelli and his team.

IF's tours compliment the hotel's astonishing cultural programs, including a 1,100 museum quality art collection, summer concert series, and 15-acre Mediterranean park. For those adventurous and heroic enough, a gladiator training program is also offered. Tours of Egyptian Rome, Roman Villas, The Evolution of Luxury, and Roman Safari are some of many offerings by the elite tour company through the hotel.

Haunted Rome tours for the more eerily-inspired and the Mystifying Genius of Baroque Rome are also included in the tour lineup. Whether you're a history buff or just want to get to know the city better, there is no better way than through IF's expertise. With private art historians, access to private plazzos, and tours of hidden sights, you may feel like Caesar himself in the magnificent city.

Rome wasn't built in a day and the experiences you take away from these exclusive offerings will leave an indelible mark upon your vacation memory as well. Touring one of the globe's most fascinating cities with Rome Cavalieri will take you back in time, leaving guests coming back for more and more. Visit www.romecavalieri.com for rates and reservations.
Rome Cavalieri
Planetarium suite terrace at Rome Cavalerri
Rome Cavalieri
Park grounds
Rome Cavalieri
Concierge desk at Rome Cavalieri
Rome Cavalieri
Lounge Terrace