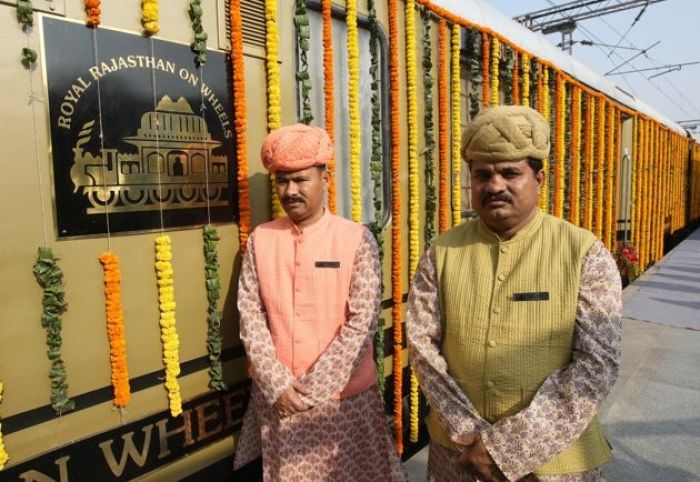 Indian luxury train, Royal Rajasthan on Wheels, has 4 more departures lined up for December. There are weekly journeys departing on 9th, 16th, 23rd and 30th of this month. This implies that there are mark up journeys for both Christmas and New Year's Eve. As is revealed by prevailing trends, this year will reportedly see a larger number of Indian passengers on the Royal Rajasthan on Wheels. However, it must be noted that this has not dented the revenue from foreign guests anyhow.
The train is expected to enjoy an even more successful season, with a high percentage of local guests. It must be noted that some of these departures have only been recently added due to high demand. The two journeys promise to be a fun filled affair with several attractions lined up during the 7 night, 8 day journey. The train is a virtual 5 star luxury hotel running on wheels through a cris-cross of several rustic destinations that were previously Rajput kingdoms. The itineraries are thoroughly planned and offer a lot of scope for sightseeing, with most of the travel planned during the day. Visit train website for more details.
About the Company:
Indian Luxury Trains (ILT) is India's first and only luxury train travel portal. A trusted resource for luxury train travel and add on tours for exclusive Indian holidays based in New Delhi, ILT offer bookings for Royal Rajasthan on Wheels, Palace on Wheels, the Golden Chariot, Deccan Odyssey, the Indian Maharaja, Maharaja's Express along with news, reviews, brochure and newsletters.
When it comes to train travel in India, we at the Indian Luxury Train, use the synergy of community, process and technology to turn the informational anarchy available at plethora of websites over internet into systematized access of information to ease the travel planning and organizing process, delivering incomparable value to our clients.
Indian Luxury Trains (ILT) is a division of Indian Holiday Private Limited®, a National Tourism Award winning company recognized by Ministry of Tourism, Government of India. You can rely on us as a trusted resource with 21 years of domain experience. We are also associated with travel bodies IATO, PATA, ASTA and IMTA.
Contact Us:
Indian Holiday Pvt. Ltd.
Rakesh Agrawal
70, L.G.F, World Trade Centre,
Barakhamba Lane New Delhi-110001
Tel: +91-11-2568 6868
Fax: +91-11-2568 7110
Mobile: +91-9717179408
Booking inquiry: query@indianluxurytrains.com
General inquiry: info@indianluxurytrains.com
Website: www.indianluxurytrains.com