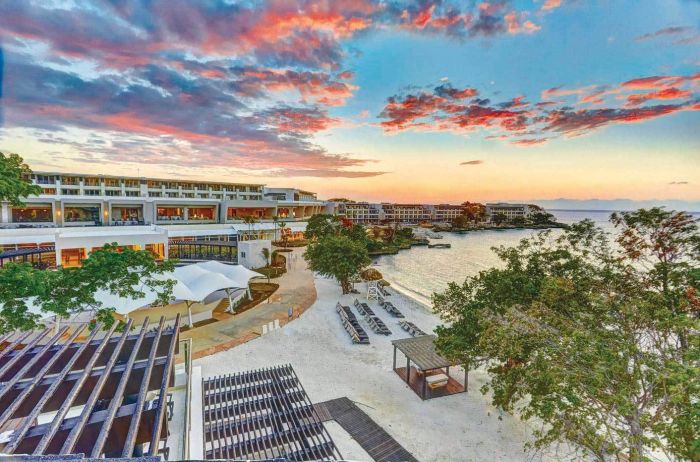 Photo Cfredit: Royalton Negril
Tourists flock to Jamaica for its endless sun, outdoor activities, tropical cuisine and fine accomodations. There's also rich history, lively entertainment and relative isolation from the Caribbean's worst storms. Most of the region's premier hotel brands are here. The Royalton chain has added an all-inclusive resort in Negril, with access to more rural, less developed parts of the island. At Royalton Negril, guests in the Diamond Club program are afforded butler service, exclusive dining and the beach. There are swim out suites, spacious rooms with double balconies, and certain suites feature both indoor and balcony hot tubs. One may order room service from the TV screen, and there are high tech touches in the closets and lighting.
Dining options range from the Tex-Mex of Armadillo, international buffet Gourmet Marche, Hunter Steakhouse with its indooor and outdoor seating, Zen for Japanese fare, West Indian cuisine in Calypso, and Grazie Italian Trattoria. Seeking something unique? Dine at C/X Culinary Experience, where the chefs walks you through seven specially-prepared courses in an intimate, private reserved setting. SCORE Sports Bar offers late night entertainment, and the hotel's outdoor stage also presents nightly acts.
The adventurous will enjoy Mayfield Falls, where guides accompany tourists to waterfalls one may hike, swim, be massaged by rushing water, dive, or slither through an underground passage. Book a ride here with a service such as Nexus Tours, as the drive is winding and isolated and takes considerable time. Lunch is served onsite. Return to the property for an actual spa treatment at The Royal Spa. The aromatic massage is exhilarating, and there is a hydrotherapy circuit. The Royalton Negril also boasts an impressive fitness center, which offers a boot camp and Pilates classes. Later, head out to Rick's Cafe, voted a Best Beach Bar by The Travel Channel. Arrive before the captivating sunset, stay for cocktails or dinner, and be thrilled by the daring divers who plunge from its 35 and 85-foot cliffs (there's a 10 foot dive from a stone walkway for mortals). Rick's also has stage performers.
Unlike Montego Bay and Ocho Rios, Negril was once frequented by hippies, and then known for modest guest houses. Some sensibilty of that remains, and from the Royalton Negril, you can concoct your individual blend of luxury and the rustic.