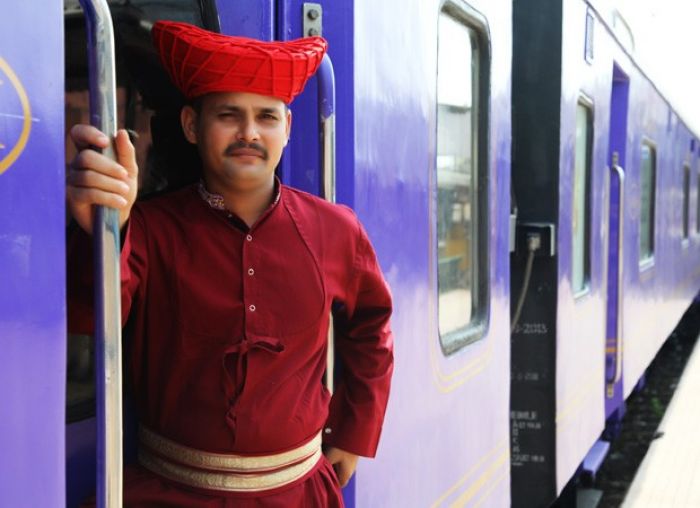 One of the Indian luxury trains, the Indian Maharaja has announced its schedule update for the year 2013 for its journeys. The train offers 2 week-long journeys for guests to make a choice- Delhi to Mumbai and Mumbai to Delhi. The former one begins from the Safdarjung railway Station in New Delhi, the latter one starts its journey from the Chattrapati Shivaji Terminus in Mumbai. Here is the departure schedule of the Indian Maharaja for the season starting from February 2013:
The Indian Maharaja Schedule 2013
February 2013 Wed, 6th Mumbai to Delhi
February 2013 Wed, 20th Mumbai to Delhi
February 2013 Wed, 13th Delhi to Mumbai
February 2013 Wed, 27th Delhi to Mumbai
March 2013 Wed, 6th Mumbai to Delhi
April 2013 Wed, 3rd Mumbai to Delhi
April 2013 Wed, 10th Delhi to Mumbai
The Indian Maharaja took its first journey on 18th September, 2009 and has had many successful journeys till date. While on-board, the traveler gets a chance to visit some of the amazing destinations of the country- Mumbai, Udaipur, Samai Madhopur, Jaipur, Delhi, Agra and more. The décor of the train and the cabins is luxurious where you can enjoy various modern world-class facilities like Wi-Fi, LCD TV, AC, 2 multi-cuisine restaurants, bar, sitting lounge, conference car and much more. All this makes your journey an unforgettable experience.
About Company
Indian Holiday Private Limited®, a National Tourism Award winning company recognized by Ministry of Tourism, Government of India, offers booking for Indian Maharaja Train. You can rely on us as a trusted resource with 22 years of domain experience. We are also associated with travel bodies IATO, PATA, ASTA and IMTA.
Contact Details :
Rakesh Agrawal
70, L.G.F, World Trade Centre,
Barakhamba Lane New Delhi-110001
Tel: +91-11-2568 6868
Fax: +91-11-2568 7110
Mobile:+91-9717179408
Email: query@the-indian-maharaja.com
Website : http://www.the-indian-maharaja.com