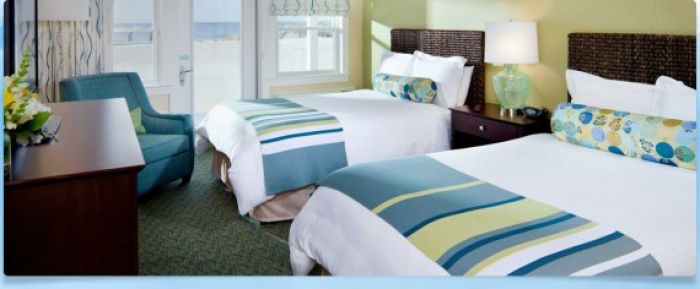 Sea Crest Beach Hotel
When you think of summertime in Massachusetts, one of the most immediate things that comes to mind is Cape Cod. Falmouth, to be precise.
Introducing the newly renovated Sea Crest Beach Hotel. You have known this seaside property since 1927, well, maybe not that long, but that's when it opened. The family focused hotel has recently undergone a massive $15 million facelift that includes a new enormous fitness center, renovated pool, updated gaming area for kids and the addition of a covered walkway between the pool and lobby.
Be sure to request one of the oceanfront rooms for a private beach view complete with balcony or patio. The fireplace rooms where we stayed are the largest available with separate living area with couch, flat screen TV and gas fireplace but are located at the rear of the property with no water views and overlook the back of another building.
We loved dining on the enclosed deck with panoramic oceanviews at Red's, named after Celtics legend Red Auerbach. The menu here features "American Cape" cuisine (think Wellfleet steamers, whole belly Cape clams and blackened East Coast salmon with New England succotash) served up in a fun pub atmosphere.
We started off with a cup of clam chowder, which, to our dismay, arrived cold. Our server told us the pot somehow became unplugged. We got off to a bad start but the entrées more than made up for it. The cracker crusted Chatham cod loin was one of the best dishes we have had on the Cape capturing the local cuisine served with a flavor filled chive emulsion and pico de gallo. The Wolfe Neck Farms ribeye was perfectly marbled, tender, juicy and cooked to our medium rare liking served with a rich cabernet reduction.
Sea Crest Beach Hotel is located at 350 Quaker Road, Falmouth, MA. For reservations or more information, call (508) 540-9400 or visit www.seacrestbeachhotel.com.
Sea Crest Beach Hotel